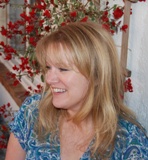 Rhonda Porter is a NMLS Licensed Loan Originator MLO121324  at Mortgage Master Service Corporation (#40445). She began her career in real estate in 1986 in the title and escrow industry, where she did everything from preparing recordings and policies to managing escrow branches and sales. Her background in the title and escrow has provided Rhonda with an invaluable perspective and has impacted Rhonda's business tremendously. Since April 1, 2000, Rhonda has greatly enjoyed serving her Washington clients as an active mortgage originator (she's not "just" a blogger 😉 ).
Rhonda has been sharing her opinions and mortgage knowledge via blogging since late 2006. She has been interviewed by the Wall Street Journal, NPR and the Associated Press and has been recognized as a finalist for Outstanding Loan Originator by WAMP in 2012 and 2011.  Rhonda's accomplishments and interviews are posted here.
Rhonda, a JP Patches Pal, lives in West Seattle with her husband, three kids and their flat coated retriever pup, Scupper. In her spare time, Rhonda enjoys painting – especially on black velvet. Her painting of Elvis and his Peanut Butter Bacon Banana Sandwich was on exhibit at Seattle's 2012 Bumbershoot Festival.
For more information about Rhonda, you can visit her blog, The Mortgage Porter.
You can also find Rhonda on Linked In, Facebook and Twitter.
Reading her articles on Rain City Guide is also a requirement! 🙂