Interest rates have been very volatile in June. This Poll Post on Seattle Bubble and the chart below are a good reminder that interest rates were at 5.5% in the Summer of 2009 and at or above 6% quite a few times in 2007 and 2008.
I thought you might find this chart of where interest rates have been for the last 40 years of interest. I borrowed it, with permission, from my friend Jay Thompson's blog.
Personally I think they will run between 4.5% and 5.5%, but that's a pretty big spread for people looking at homes to buy. A 1 point spread on a $417,000 conforming loan is $255 a month.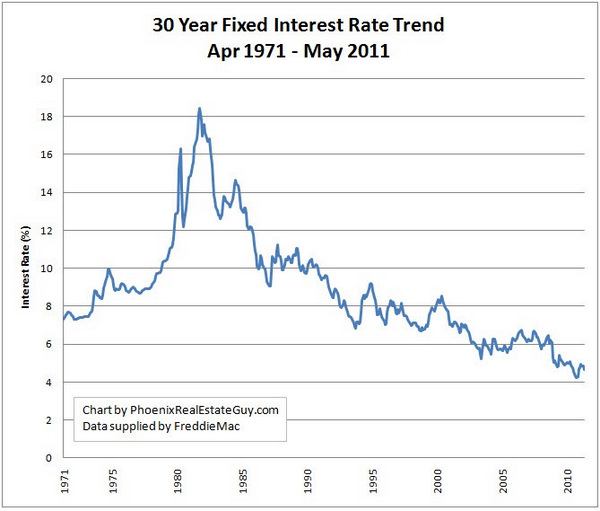 Of more concern to me is the variance in Real Estate Taxes from one property to the next.
When you get pre-approved, make sure you know what payment vs Purchase Price you are being approved for, and what assumptions are being made as to Taxes and Insurance.
I looked at the 30 homes sold in King County for $500,000 in the last 6 months, and the range of Annual Real Estate Tax went from $3,600 on the low side, to $8,000 on the high side. HUGE SPREAD. The Real Estate Taxes could easily turn your pre-approval into a Failed Pending Sale.
Be sure to know the underlying basis of your pre-approval, and make adjustments as needed from one house to the next. If it's a super-deal, the taxes may be out of proportion to the sold price.