The graph below shows us how easy it was to spot that the market was going sideways in 2006 and 2007. How credible was it that almost double the amount of people could afford a house for more than $400,000 in 2006 and 2007, than in 2005 and the years prior?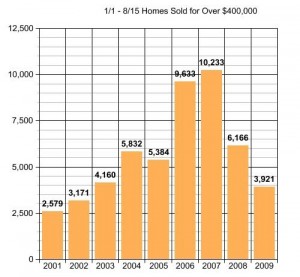 I say we can expect the 3,921 homes sold for over $400,000 to increase to about 6,500. That will be the sign that the market has "recovered". Recovery will be about volume recovering…not prices. If you remove 2006 and 2007 numbers from the chart below, and replace 3,921 with 6,500, that would be a natural progression.
These stats are from 1/1 to 8/15 for the years 2001 through 2009. Earlier today I was looking at the change in the number of homes sold for less than $400,000. In 2001 that segment represented 82% of homes sold. Affordability reduced by 50% by 2007 when only 40% of homes sold, sold for less than $400,000. We are now back up to 50% with more homes sold for $400,000 or less this year than last year.
So where is the market going? If 11,500 people could afford homes priced at $400,000 or less back in 2001 and 2002, it's safe to assume at least that many people can afford to buy them now.
So recovery will look like 6,500 selling for more than $400,000 and 13,500 or so selling for under $400,000. Again, these numbers are for the period 1/1 to 8/15 to coincide with the numbers we have for the current year. These numbers also tell us that the housing credit went a long way toward bolstering the lower end of the market. Even though volume of sales is down from 10,458 last year to 8.686 this year, homes sold for less than $400,000 increased from 4,292 to 4,765.
I don't think prices will go up and I don't think the recovery will happen in terms of home prices. Recovery will be volume based, with over $400,000 improving by 60% to 65% and the under $400,000 market improving by nearly 3X what it is right now.
Required Disclosure: Stats are not posted, compiled or verified by The Northwest Multiple Listing Service.