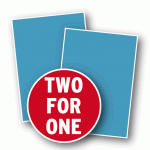 Well it's all approved and just needs the President's Signature, so I think we can pretty much call this Homebuyer Credit Bill a done deal.
I am not going to call it an extension of the $8,000 credit, for fear that too many will miss the added $6,500 credit for *move up buyers. Two credits in one bill.
We won't have the IRS links until after the Bill is passed, of course, but I updated my post of last week to reflect all of the things I expect this bill to have. Very little change from what was expected.
On the $6,500 credit looks like close date is not an issue and contract needs to be on or after Nov. 7.
So there it is…a two for one special. $8,000 First Time Buyer per the definition in the current bill PLUS a $6,500 credit for move up buyers for home purchase up to $800,000*who have owned their current home and lived in it consecutively for 5 of the last 8 years.