Today Zillow announced the addition of rental listings and search to their arsenal of tools for consumers. Now anyone can list a home for rent, and Zillow users can now search both rental homes and homes for sale in their area. Consumers can do a map search by monthly payment for both for-sale and for-rent homes simultaneously based on a monthly payment they can afford.
According to a recent Harris poll, one in four people who plan to move in the next three years say they will search for both homes for rent and homes for sale. This may be a function of the current economy. Sellers may choose to rent their homes now, rather than sell at a lower price than they could have received a few years ago. Conversely, these same home owners may choose to rent their next home when they move if they can not sell their home now.
Zillow is launching a new "rent vs. buy" comparison search that allows consumers to use a "monthly payment" filter to calculate what they can afford to purchase using the current day's local mortgage rate for a 30-year fixed mortgage. Zillow already has a massive amount of real-time data on mortgage rates built into their "Mortgage Market" feature that they can draw from.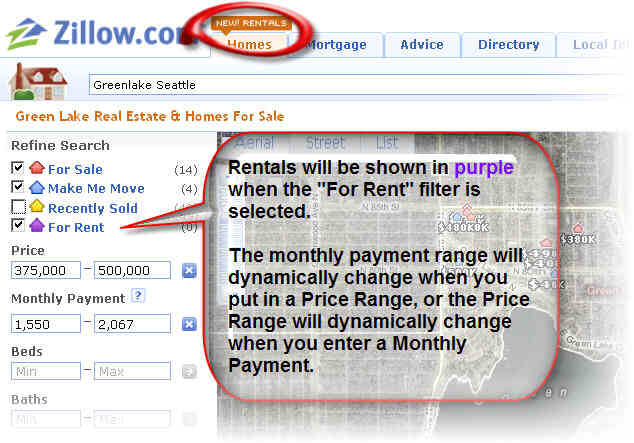 Zillow plans to offer landlords and agents a Featured Listing rate of $9.95 for 180 days, whether it is a listing for sale or for rent. Featured Listings can include unlimited photos and links to outside websites. With Zillow's ZIP code, neighborhood, monthly payment, and map search functionality, I imagine Zillow will give even free Craigslist some serious competition.