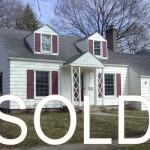 Buyer Beware of Real Estate "lingo". The soft language of "making an offer" is really leading you to sign a binding contract. For some this comes as no surprise. But for others who may think they are simply making an offer, and later deciding whether or not they really want to buy the house, this is very important. If the seller signs your offer without any changes, you are in a binding contract to purchase that house.
An agent can pretty much tell what is happening when the buyer is signing the contract. That is why I think all contracts should be signed in person, in front of the agent, and not via fax or e-signing. If they are only paying attention to the offer price, signing quickly, and not asking questions about or reading the 10 or more attached pages to "the offer", it becomes fairly evident that they are thinking they are flushing out the "true" price vs. the asking price from the seller. Not so. Another clue is if the "offeror" is asking how they get their Earnest Money back, before signing the offer. In real estate you quickly move from making an offer to actually buying THAT house, in many cases. Once the seller signs that "offer" you are quickly pushed into the queue toward closing via the escrow process that ensues.
The key is not simply to leave yourself a bunch of legal outs, but to make sure that you really ARE going to buy that house, unless new information suggests otherwise. You should not be cancelling "on inspection" because you decided not to buy the house because of the street it is on, unless you learned something new about that street (from the inspector) AFTER you made the offer. You can, but you shouldn't. You should consider that the seller is thinking that you really do intend to buy his house, based on what you could readily see prior to making the offer. Making an offer is not really a "maybe I will buy it". Making an offer is indicating that you ARE buying it, unless new information that was unavailable at time of offer comes forth prior to closing, and during the due diligence period of the contract.
Technically you can lose your Earnest Money if you say "I changed my mind about buying a house" when you ask to cancel "on the home inspection". Well, let's change that to you SHOULD lose your Earnest Money if you are cancelling merely because you changed your mind, or because you didn't realize when you made the "offer" that you were actually agreeing to buy the house. Remember, you are causing the seller to REMOVE the home from market. You are pulling the property OFF of the public portals. You should not be doing that simply to have more time to think about whether or not your really want to buy it.
Making an offer means you want to buy that house. An offer to purchase is not intended to be used simply to prevent other offers from coming in, while you think about whether or not you want to buy that house.