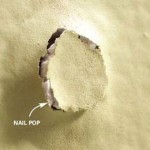 Home Warranty: I just sent a text message to one of my clients who bought a new construction home almost a year ago regarding their "Builder Warranty".
A new home will have its fair share of minor settlement cracks and "nail pops" and many quality builders will come back at the end of the 1st year to fix these. Some will have a limit as to how many times they will come back to the home to fix them, so I generally advise my clients to read their warranty very carefully so as not to use up their total return visits in the first week.
Many, many times I have gone to someone's home to list it for sale finding these settlement issues, and the owner never bothered to call the builder in the warranty time frame to have them corrected. Trying to fix them 5 years later is not only more costly, since the builder would have done it for free if that is provided in the warranty, but also more difficult to fix. Finding the exact paint color five years later can be difficult. The 5 year old paint on the wall or ceiling may not match even if you have the exact paint color.
One of the most important issues with these fixes is not the paint color, but the paint "sheen". Often I will go to someone's house and see everything "fixed" by the owner vs the builder, and even though they used the exact same paint color, the fixes have a shine, and the rest of the wall does not.
If you bought new construction about a year ago, take out your builder warranty and examine your home very carefully. Look around door frames, windows, drywall tape joints. Pull your furniture away from walls and look for "bows" in the wall from green wood having dried incorrectly. Often you can see this by examining the baseboard for gaps, and remember to look at both sides of the wall if you find this type of abnormality.
Maybe you can have your friends over for an "Almost One Year Anniversary – Find a Crack" party 🙂
There is usually a "drop dead date" in your warranty for these types of minor repairs, so be sure to PUT IT IN WRITING. Don't just call the builder a week before your time frame expires. It's too easy for someone to say you never called, or that is not what you called about.
Best to get your request to the builder, in writing, before the time frame lapses. Happy One Year Anniversary in your new home, often includes a visit from the builder to fix those things that tend to settle in the first year of a new construction home.
If you bought resale, with a one year "home warranty", same story. If you have been "ignoring" a small problem that may be covered by that warranty, be sure to get a written request in before that warranty expires. You will be looking for different things if it is resale vs new construction, so read your warranty carefully. You might even want to have a full home inspection done, to make sure you don't miss something.