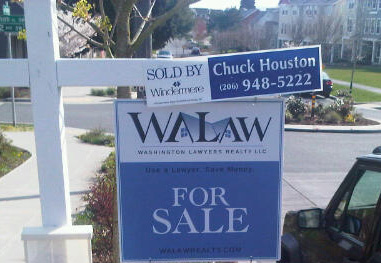 then what does this picture say? And who is the audience?
As professionals in this field, we understand the message. But I'm not so sure about the consuming public. What assumptions do they make about WaLaw, Windermere, and Chuck Houston? Do they know who represented the seller, and who represented the buyer? Do they know the relationship between WaLaw on the one hand, and Windermere and Mr. Houston on the other?
In sharp contrast, all of us (the authors of this blog, many of its readers, most of its commenters) know exactly the answers to these questions. WaLaw listed the property on the MLS, and Mr. Houston (licensed through Windermere) found a buyer. The seller paid WaLaw a sum of money. WaLaw then shared some (or, as in this case, most) of the money with Windermere, which then shared most of it with Mr. Houston. We get it. We perfectly understand the message sent by a "Sold by" sign hung on a yard sign.
So really, the audience must be us, at least in large part. Otherwise, the message would be re-worked to connect with the true audience and not just us. And this raises the question: What's the point of providing us with this information? What do the "speakers" hope to gain from imparting this message?
Frankly, I'm not sure of the answer. I do know that, in the future, WaLaw will use its own "Sold" sign rather than the selling agent's "Sold by" sign. That, in my mind, will simplify the message significantly and allow me to connect with the consuming public, the audience I want to reach. Hopefully, a layperson, when seeing the sign, will conclude only that WaLaw Realty helped this seller in selling her property. That's the message I want to send, and as it stands now, I'm not sure that message is getting across.
Post Script: WaLaw will now be posting "SOLD