When my clients send me a home they want to see and ask for my thoughts, I often respond "nice house; seems a little over-priced to me". Sometimes they wonder how I know that before seeing the house.
Using general statistics to establish an immediate reaction to price, gives you a good starting point for home valuation.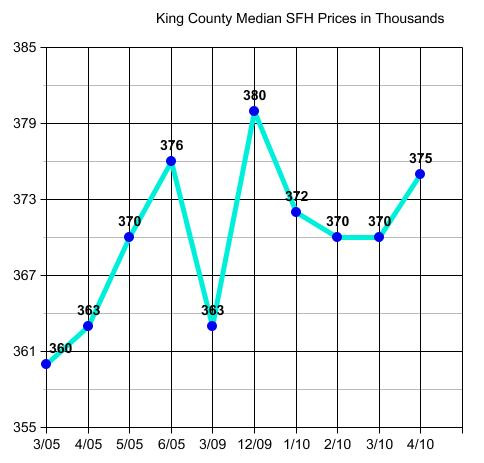 The above graph is a good "cheat-sheet" for shoot from the hip value reaction. We can see that the recent history bottom of 3/09 is equivalent to 4/05 pricing.
One of my clients sent me a property, nice one, and I quickly checked to see that the owner bought it brand new in the summer of 2004 for $600,000 and the asking price is $750,000. "Looks a bit over-priced" because it was brand new when they bought it, so they didn't (or shouldn't have needed to) remodel anything. We are at May/June 2005 pricing (as you can see in the above chart).
The market didn't increase by 20% from Summer of 2004 to Spring of 2005. New homes depreciate as 2004 new carpet is now 2010 old carpet. 2004 new paint and hot water tank are now heading toward the down-slope of their life expectancy period.
By all accounts asking 20% more for a home bought new in 2004 is not likely realistic. Median home price in June of 2004 was $340,000. Current month to date median price is $375,000. so that would put that property bought for $600,000 in June of 2004 at $660,000 to $665,000 today before applying depreciation. ($375 divided by $340 times $600 = $660) So my gut reaction to a $750,000 asking price is that it is almost $100,000 over where it should be.
That doesn't mean that someone won't pay $750,000 for it. The only question is…Is that someone who will pay about $90,000 too much for it…YOU?
(Required Disclosure: Stats in this post are not compiled, posted or verified by The Northwest Mulitple Listing Service.)