There are a million articles written on the Top 10 Mistakes that Home Buyers make. Today…the biggest mistake one can make is to set a rigid time frame as to WHEN you WANT to buy. Let me re-phrase that in light of the email I just received below from someone who is not my client.
"Ardell, I am seeing many sellers hanging on to those 2007 prices. I mean wouldn't being 12% below a 2007 purchase price be considered a little high? Properties are closer than ever now to late 2004 pricing aren't they? Many houses we look at have asking prices higher than what sellers purchased them for in 2005 or later. I'm really getting tired of this."
First let's review the data again.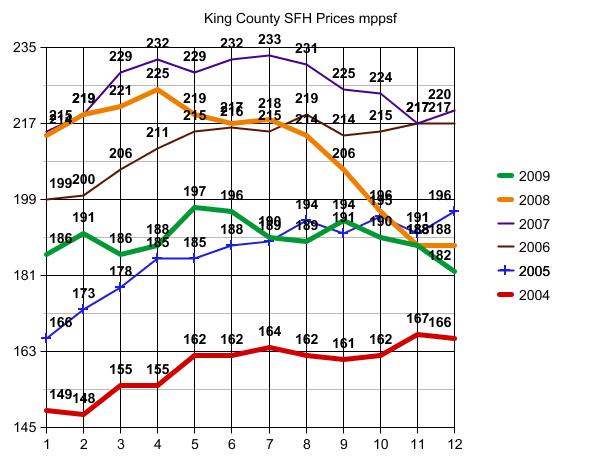 King County median home price is/was at $375,000 a week or so ago, up from $362,700 as of the end of March 2009, and WELL above "late 2004 pricing" of $337,500.
I'm not saying prices won't get to late 2004 levels. In fact I think they will get there or pretty darned close in some, though not all, areas. But to go out EVERY weekend…looking at homes and hoping they would now be at 2004 pricing when they are not, will result in your "getting tired of this". It would be like my getting tired of my diet for not having lost 20 lbs this week. I know that's going to take some time, and getting "tired of this" is NOT an option if I am to achieve my goal by my daughter Tina's wedding date in October 🙂
Now let's see how the numbers fall in different areas vs. "King County" median prices:
98052
Late 2004 median home price = $409,995 – April 2010 = $610,000
98006
Late 2004 median home price = $507,000 – April 2010 = $591,500
98033
Late 2004 median home price = $469,000 – April 2010 = $479,000
98103
Late 2004 median home price = $400,500 – April 2010 = $435,000
98038
Late 2004 median home price = $281,950 – April 2010 = $299,950
98023
Late 2004 median home price = $244,975 – April 2010 = $249,225
98109
Late 2004 median home price = $598,500 – April 2010 = $460,500
98125
Late 2004 median home price = $319,750 – April 2010 = $360,000
Some surprising results there, and in many cases those numbers come up VERY differently than what I have been seeing touted in recent news articles as to which neighborhoods are "stronger" than others these days.
There are different reasons for these results in the different zip codes. For example, if you are hoping for 2004 pricing, but are buying a house that did not EXIST in 2004…well, in some areas new construction is not likely to fall into the level of a home built prior to 2004.
One thing "the comps" don't tell you, is how FAR the MAJORITY of home buyers has shifted from 2004 to present. How many are buying more reasonably priced homes where they can afford to put 20% down and get a 30 year fixed mortgage based on conservation ratios, as example.
It's not ALL about "the market"…nor is it ALL about "this house". First step is to know exactly where the area you are looking in falls…and if NO SELLER "wants" to price there…you may just have to stop looking for awhile. Looking for "best price" in May of any year, is not particularly realistic. It is what I call "The Season of Hope" and "Hope Springs Eternal". Best prices often don't happen until around October 15th in any given year.
Start with a realistic objective and DO NOT WEAR YOURSELF OUT looking and looking. Take your time. Pace yourself. If lowest possible price is your objective…"Spring Bump" period may not be the time you want to choose for being in your new home. Buying in August – September – October may be a better bet if you want "better pricing", especially if no new housing stimulus packages are forthcoming.
Remember…"Patience is a Virtue" and one often has to fight their initial gut instincts, in order to become "virtuous".
(required disclosure – Stats in this Post are not compiled, posted or verified by The Northwest Multiple Listing Service) They are hand calculated by me, and April medians may include the first few days of May before we switched to a new mls system. I used 4/1/10 as the start point…but no end date, since the system stopped updating data around May 4th and converted to the new system that does not provide similar statistic gathering capabilities.