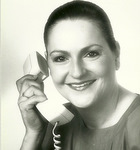 Today is my 20th Anniversary as a Real Estate Agent. Seemed like a milestone worth noting.
Still had my original photo taken back in 1990, so I thought I'd share it with you…yes back before cell phones. 🙂
My grandchildren are pretty much the same age as my children were back then. We didn't use email…we didn't even use faxes…and the mls was DOS with the only pictures available via the mls "book".
We've come a long way, baby!
My "cell" phone in 1990 had a cord too.