Short Sales and Bank-Owned property as a percentage of the total market is a very important topic. One worthy of tracking on a week to week basis. There seems to be a false sense that these are "evenly distributed" throughout the County. Rather than get into a "yes they are; no they're not" spitting match, let's look at the actual data.
King County as a whole: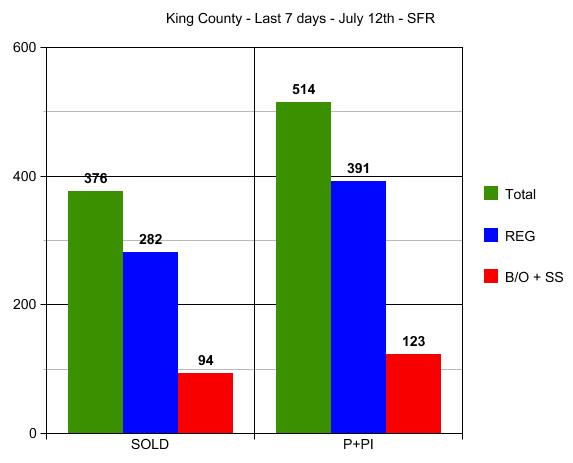 In the graph above we see that 25% of all property sold in King County this week were "distressed" sales. For those who like the break down, 49 of those 94 were Bank-Owned properties and 45 were Short Sales. Not a significant imbalance one to the other. Not a significant difference in % of total sales on those that went Pending this week. I'm counting Pending Inspection and Pending since that will not duplicate the stats and will capture those that went straight to Pending with no inspection requested. That total is almost 24%…so not a big difference between closed sale data and pending sale data.
BUT when you look at some of the break-downs by area…HUGE DIFFERENCES!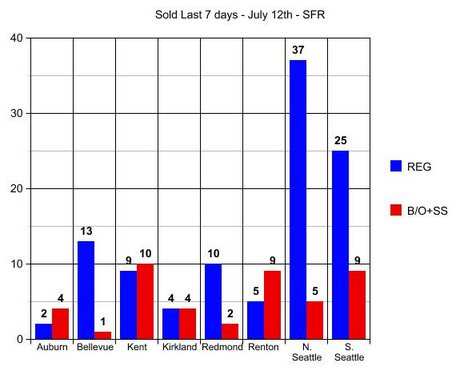 4 out of 6 of the closings in Auburn were distressed property, but only 1 of the 14 in Bellevue was distressed. 9 of the 14 sold in Renton were distressed property, but only 2 of the 12 in Redmond were distressed. Kirkland's results are over-stated here and usually look more like Bellevue and Redmond's numbers. You can see that in The Pending Sale Chart which for some reason would not post here, so I put it over on my blog.
I will try to run the stats every Monday so that we can combine them in 4 week comparison blocks. The results will vary somewhat from week to week, BUT some areas are clearly 50% or more distressed property, while others are only 10% to 15% distressed property. Looking at valuation factors for all of King County as a whole will not tell you enough. You could clearly be overpaying for a home in some areas, if you are using a County Wide % as to how much the market is up or down. There is a HUGE variance, as you can see in the graph here and the one over on my blog.
Again, apologies for not putting that 3rd and final graph down here and diverting you elsewhere to see it. When Dustin gets back from having fun, maybe he can figure out why it wouldn't take.
(required disclosure – the stats in this post and graph were not compiled verified or posted by The Northwest Multiple Listing Service)