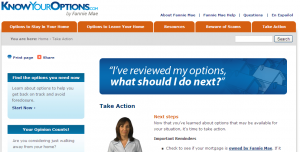 Fannie Mae recently launched KnowYourOptions.comto help struggling homeowners who may be feeling overwhelmed with their mortgage situation.    The website is gearred towards avoiding foreclosure and warns homeowners not to walk away from their home.   
The site features interactive tabs:
Options to stay in your home
Options to leave your home
Resources
Beware of Scams
Take Action
There are calculators, videos, checklist and forms for home owners to check out.   
With regards to the refinance section under "options to stay in your home", know that you may not have to go through your mortgage servicer (who you make your mortgage payments to) with the home affordable refinance.   Your local mortgage originator may be able to help you with your home affordable (or any) refinance.
UPDATE TO POST 10:15PM:   If you are considering leaving your home, before you decide on a short sale, deed in lieu or foreclosure, please contact an attorney.   Fannie Mae's site insinuates that with a foreclosure  you may have a deficiency judgement–opting for a short sale or deed in lieu of foreclosure does not guarantee that you will not have a deficiency judgement (depending on your personal scenario).