There's a big hoo-ha brewing over the December 2010 "increase" in home sales. Not to worry. It's more of a "Lies, Damned Lies and Statistics" argument, than a true market change of any kind.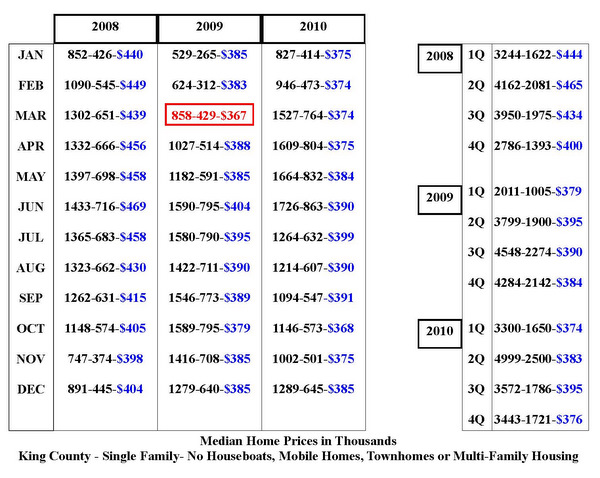 As you can see in the chart above, prices are still trailing along the bottom from the price in the red block of March 2009.
Volume for the 4th Quarter is higher than 2008 and lower than 2009. The December up is simply a correction for November down. That correction could simply be a matter of reportings vs actual closings OR it could simply be longer loan processing times throwing some November closings into December.
Don't worry about the noise, but do worry that more home buyers seem to be overpaying for homes these days than they have been for a couple of years. There is no market trend that will cover up those kinds of mistakes.
********
Required Disclosure: The Stats in the above chart are compiled be ARDELL and are NOT compiled, verified or posted by The Northwest Multiple Listing Service.
Note: The primary variance in my numbers vs other reportings is that most count townhomes in Seattle but not elsewhere. I even that out by not counting townhomes at all.