Finding your Dream Home starts with determining if you can afford your Dream Home. Let's say you have decided that you want a two story house, one with at least 3 bedrooms on the 2nd floor. Now add that you work at the main Microsoft Campus and want a home within a reasonable distance to work.
Start by taking out a map and drawing the area within which you would like to live. For the purpose of this example, I drew the map based on where most of my clients who want to live near Microsoft draw these lines. For example, most wouldn't live on Finn Hill, so Finn Hill is not in this sampling. Most would not live in Bothell. So Bothell is not in this sampling. I can't use a "radius" of the campus, as most don't consider the other side of Lake Sammamish to be better than a little "further" in pure distance into Kirkland vs "around" the Lake. So I'm using a polygon, many sided, map area.
Your "mapped area" may vary, but use this as a guide, and apply to your own mapped area.
I'm using a "12 month rolling basis" here to include the most recent data and exclude the oldest data, and yet still have enough sales in the sampling to produce enough relevant data. For the most part it is 2010, but includes the most recent data available in Jan. 2011 to date, and excludes the oldest info from Jan of 2010.
Before you go out looking at houses, you want to begin with some reasonable expectations.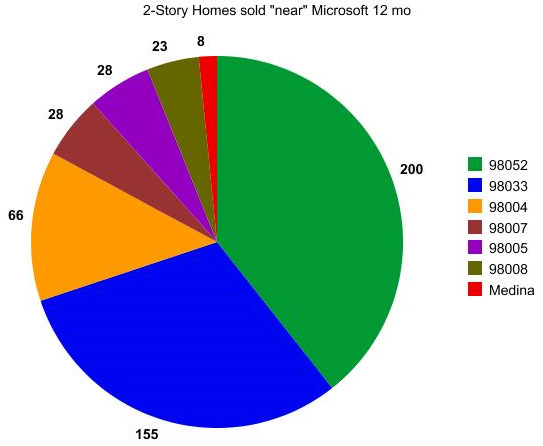 The Data above tells us that the majority of two story homes in the mapped area sold over the last 12 months existed in zip codes 98052, 98033 and 98004. Now let's look at price.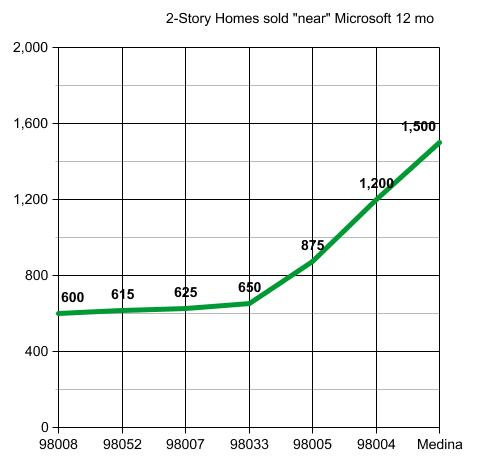 I only used some of the data to produce this post. You can see the rest of the raw data HERE.
By using these simple techniques, you can easily see that you likely need to spend about $650,000 give or take and look in 98052 and 98033 primarily. But what if you want to spend $500,000 and want a home that is not older than 5 years.
Simple…just test that parameter.
98052 2-story built in 2006 or later sold in the last 365 days for $500,000 or less = one house.
98033 there was also only one house sold fitting those parameters, but it was far from being finished new construction. There is also one in pending. Both required cash buyers as the property was not in a condition that could be financed.
So now you have to ask yourself, is "The Dream" a "house" or a "home"? Do you change the "what" and look for an older home of a different style in a great neighborhood with a great school? Or do you up the price in order to get everything you want, if you can afford it, but didn't "want" to spend more than $500,000?
Point is, you don't have to go out to "look" for your Dream House before testing your Dream against Reality. Setting a realistic objective saves you time and maybe money as well. By staying home and making this decision, you may opt to keep the price low and change your expectations as to house. If you get too vested in the outcome of "newer 2 story house of not more than 5 years old", you may start pushing on price to get "it".
Consider all of the factors of "dream home" including neighborhood and schools, before getting your heart set on one particular style or age of home.