The #2 Question in Real Estate is Why Can't I Find a Good House at a Fair Price?
The #1 Question we covered was How Much is THIS Home Worth? For those who find a house they want to buy, or may want to buy, the question is how much is it worth or how much should I offer on it?
But there are a fair amount of people having trouble finding a house they may want to buy.

OR they find a house they may want to buy, but not at the price they want to pay.
For those people the main question is Why can't I find a GOOD home at a FAIR price.
At any given time, in any market, if you are looking for a home to live in vs an investment property, you will be lucky to find THREE good choices no matter how many homes are on market.
Every SELLER needs to BE #1, #2 or #3 and every BUYER needs to FIND #1, #2 and #3.
It really is that simple. The only difference between a Buyer's Market and a Seller's Market in that regard is the amount of time you have to find those. In a Seller's market you may only have hours before #1 hits the market and has offers. In a Buyer's market you usually have up to a week, unless you are trying to beat out everyone else.
In a hot seller's market, good houses at a fair price are usually about 1 in a 100. In a buyer's or balanced market, good houses are more often 2 -5 per 100. The only thing this tells you is you have to kiss more than a few frogs to find "the one". Luckily most people are able to do that using the internet to narrow down the choices.
If you are thinking you are going to narrow down to 20 good houses and choose from those, you are likely incorrect. The danger in that thinking is that you will continue to lose out on #1, #2 and #3 while you are sorting the 20.
Worth Mentioning Here: #1 may move up to #1 after 650 days on market via a massive price reduction. So we are not talking about grabbing "new on market" necessarily. Very few homes come out of the gate at the right price.

Knowing which ones do and which don't is what separates the men from the boys, and is likely the hardest part of finding a home to buy.
Last but not least is knowing what you want, and what a "good" house is and is not, and what a "fair" price is and is not. Easier said than done, but not as hard as you might think either. Likely the #1 mistake people make is looking at County-wide stats. As you can see from the charts below, that will likely lead you to overpaying in South King County and missing the opportunities in North King County.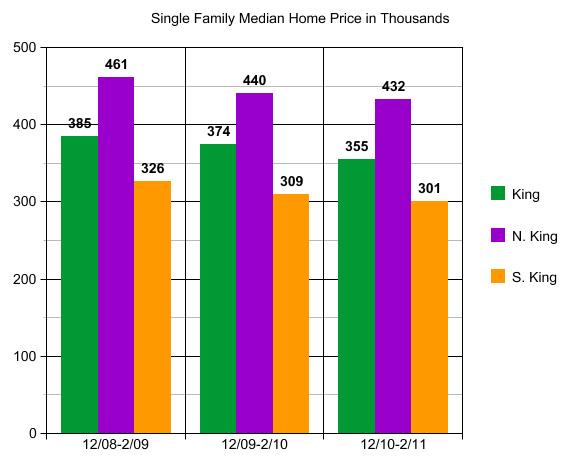 I haven't been doing condo stats for a couple of years, but threw these in so you can see the variance between Homes and Condos.

Condo and Single Family Home prices are not always moving in the same direction, and clearly never to the same degree.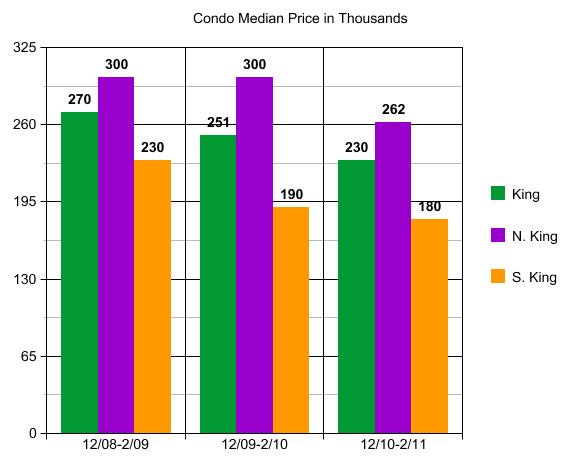 Back to the Question: Why Can't I Find a Good House at a Fair Price? You might be pricing incorrectly or you may just be taking too long to make a decision. I'm not talking about taking too long to buy the right one, I'm talking about taking too long to sort the "wrong" ones into two piles. One pile is NO and the other pile is MAYBE, but not at this price.
It's very, very difficult to find the one that is priced right out the gate. I can usually do that, but it is seriously very difficult, and most people don't have the heart for that in a Buyer's market.
If you have been LOOKING for the right house at the right price for a long time, you probably need to change the method of HOW you are doing the LOOKING.
********
(Required Disclosure: Stats in this post are not compiled, verified or posted by The Northwest Multiple Listing Service)