Many around the Country are asking what a Home Price "Recovery" will look like and what will create it. If you have been home shopping on The Eastside close to the 520 Bridge, you are likely amazed at the strength of that market in recent weeks.
Kirkland 98033 is not the only market experiencing this phenomenon, as I first noticed the activity and price increase in the Cherry Crest neighborhood of Bellevue 98005. But since I recently represented a buyer client who closed on a home in Kirkland 98033 near Downtown in the Lakeview Elementary School area about a block from Google, I am focusing on this area first.
While back in October and for the 4th Quarter of 2010 we were talking about whether home prices in King County overall were running in late 2004 levels or early 2005 levels,
Kirkland 98033 has bounced up to February 2006 levels!
Before you jump to the conclusion that this segment simply had a lower % of Short Sales and Bank Owned Property…not so. A full 42% were "distressed" properties. Even with that drag of an additional 5% to 6% down created by the "distressed property sales", the prices are running at February 2006 levels.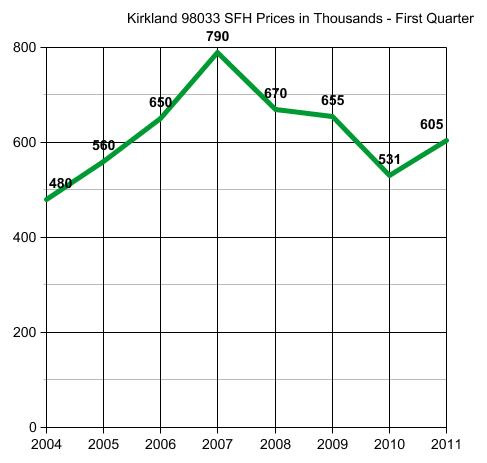 None of us are holding our breath for prices to reach peak levels, and I don't anticipate that happening for many years. But if you chop off the extreme peak of 2007, home prices in 98033 are clearly recovering nicely.
WHY?
There are several contributing factors.
1) Google – opening in 98033 in late 2009 and hiring a significant number of people in recent times.
2) High Elementary School Rankings – While all of the schools in 98033 don't enjoy the highest ranking status, those closest to Google and Downtown Kirkland do. Peter Kirk Elementary, Lakeview Elementary and Ben Franklin Elementary, all in 98033, help support and boost home values in these areas. To be fair and balanced, I did not segregate these schools in the stats and included all school areas of 98033, at least one of which ranks fairly low.
3) Anticpated 520 Bridge Toll – The soon to be imposed Toll to cross the 520 Bridge has had an impact on home prices closest to that Bridge. Some have moved from Seattle over to the Eastside to avoid the Toll. Some who work on the Seattle side, but prefer Eastside Schools to Seattle Schools, have moved as close to the Bridge as possible to cut down on fuel costs and time delays to compensate for the negatives of the toll.
Kirkland is clearly one of the best places to live in the Seattle Area, and always has been, especially the area closest to it's Downtown on the Lake. The reasons for that are many, and the subject of another post.
So yes, the Recovery is clearly "Cherry-Picking".
A few other amazing facts. Of the 44 homes sold in the First Quarter of 2011 in 98033 that were NOT short sales or bank-owned properties, 18% sold in ONE WEEK or less with 23% selling in two weeks or less and a full 50% selling within 90 days. Clearly though the distressed properties were very high at 42%, they were not creating a huge drag on the non-distressed properties. The median for non-distressed properties was a whopping $646,000. Very close to the full median price of 2006 overall.
This is what a "Recovery" looks like. It doesn't reach peak…but…it looks pretty darned good to homeowners in 98033.
********
(Required disclosure: Stats in this post are not compiled, verified or published by The Northwest Multiple Listing Service.)