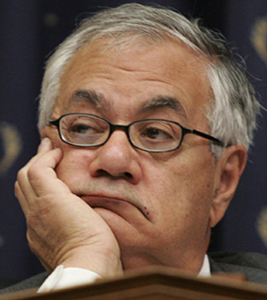 It appears that Barney Frank penned a letter to Ben Bernanke a week before the Fed rule on Loan Originator Compensation was originally scheduled to go into effect.  Poor Barney was worried that the Fed had perhaps gone a little too far with their rule and that they should perhaps reconsider a few items (they have not as of yet) stating "I believe it was a mistake for this rule to go beyond what was required in the Financial Reform Act…"
Barney is requesting two changes to the Fed's rule on LO Comp:
1) allow mortgage broker companies to pay their employees on consumer/borrower paid compensation.  Barney Frank writes regarding the Fed's rule "…differs from Section 1043 of the Financial Reform Act, which merely states that if a loan originator receives compensation from the consumer, that originator cannot receive compensation from another source…while the more restrictive Fed rule prevents the sharing of the consumer-paid compensation by the firm with an employee for that employee's work on the loan…"
2) allow mortgage brokers to make small fee reductions at closing to cover shortfalls which sometimes result because of last minute third party fee changes, extensions, etc.
Frank adds that he's aware that some loan originators will use this tactic (helping with closing cost) "with the intent of circumventing the rule's consumer protections.  Therefore, it would be appropriate to limit the frequency of such use and to limit either the dollar or percentage of the reduction, and to monitor a loan originators' use of this flexibility to ensure that such flexibility is not abused."
Is it just me or does that last paragraph seem whacky?   How is a mortgage originator who helps pay an extension fee abusive to the consumer?  I seriously don't get it.
In my opinion, if the Fed wants LO Comp to not be a factor in the transaction, then they should probably ignore Barney's second request.  I'm picturing NAR contacting Mr. Frank insisting that this be corrected so that their members are in a situation at closing where they might have to cough up some of their commission.
Now that we're a few weeks into the new LO Comp rule, I do like having my pay taken out of the equation.  Can't wait to see all the other changes coming this summer with Dodd-Frank <sarcasm> and all the back peddling that will probably happen (just like this) from all of the unintended circumstances it will cause.
You can read the entire letter to the Honorable Ben Bernanke from Ranking Member Barney Frank here.
Hat tip to NAMB.