New on Market! Do you jump on it…or let it pass?
That's really the biggest question in Real Estate today in the Seattle Area. You hate everything that is for sale, but when a house comes on that you like (and so does everyone else) how do you know whether or not you would be overpaying to be the one that buys it in less than 7 days?
Everyone's talking about the crazy market of no one wants it or everyone wants it. C'est la vie! Knowing when to jump and when to pass is an artform in its fine points. But since everyone can't be an artist, I try to come up with some "rules of thumb" to help you with the "pass or play" dilemma.
A few weeks back we talked about the main three steps of finding the right house using the internet. In this segment we will expand on Step 3 which helps you determine what to offer and whether or not to offer at all.
I started using a color coded system for valuation models early this year. Not necessarily to help me value property, but as a way to show others how and why an agent will walk up to one house and say "they are asking too much" and the next one "hurry and get this one before someone else does". It's near impossible to define that because agents tend to learn these things by osmosis vs actual data. But if you don't know the client well, you have to find some way of conveying the "why" of that, and this is the best I could come up with for the moment.
Works fairly well if you don't leave your common sense at home.
A for instance…I coincidentally just got an email from an agent while typing this about a "massive" 10% price reduction…and it is still WAY overpriced! How does an agent or a buyer know this instead of thinking WOW…big price drop? How do you know that it is still 20% overpriced after a 10% price drop? Well, maybe one that obvious is a secret to no one. 🙂
Back to color coding…


Red is the universal STOP! Brown is the universal "This might be a load of crap". Yellow is the Universal "CAUTION!". Everything else is where most property should fall from light green to dark blue being "the norm" depending on the area and the house. Purple is reserved for Royalty, meaning the house AND the location better be pretty darned "special".
Now you chart out your area of interest noting not only the Market Value to Assessed Value Factor, but also how much of the value is represented in the DIRT of it, vs the HOUSE of it. Bring your common sense with you…the tax assessor is not always correct. Well, he/she is "correct", but the market may not agree. So you have to adjust for market influence as to home styles, condition and changing influences on land value. Don't make them up though…make sure you find the evidence to support your adjustments in the current data.
Your charts should look something like this for In City and most View Areas:

OR like this for a more typical "suburban" housing development: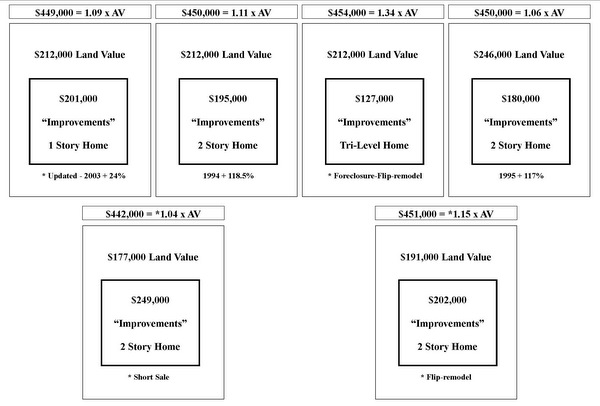 More charts with explanations here and here and here, as you want to lay the correct ground work before working on Who is DELUSIONAL, you or the seller?
SELLER IS DELUSIONAL EXAMPLES:
I'm pulling up real examples as I type this. I can't tell you which houses they are, because it's against mls rules for me to shine a flashlight on delusional sellers by name and address.
1) Seller lives in the 1.1 or less area and has priced their house at FIVE TIMES the Assessed Value. Yes folks…it's a new listing too. Lots of oddities here…let's move on to less delusional.
2) Seller prices the house at 1.4 in the Brown Zone in an area that normally sells in the light blue zone. This is one where the Tax Assessor may be off. If you can get it into the dark blue zone, you may have to be happy with that. There's a strong chance it will sell in the purple zone, and it should have been listed in the mid range of the purple zone at no more than 1.35 X assessed value. For my clients I'd say if you can't get it for 1.25 X AV or less…let it pass. Why is the seller "delusional"? Because he spent a ton of money remodeling the kitchen. BUT that was 25 years ago. It needs to be done again.
3) OMG this house has been on market SO long…it must have a pile of dog poop in the living room when you walk in. How can a house be on market for almost 3 years! OK…listed at 1.28 x AV in a neighborhood that sells for 1.06. No dog poop…just overpriced. They have reduced the price over 3 years to the current 1.10 X AV…too little too late and close but no cigar. The stigma of more than 2 years on market is going to push this down into the green zone. On the bright side everyone else in the neighborhood is selling their house in 2 to 7 days, because by comparison, even though they are only priced fairly, they look like screaming deals. LOL!
4) Oh Jeez. This one is just sad. Nice house. Great house even. On market almost a year. Great area, well "good" area anyway. The problem isn't so much that it is priced at the wrong MV to AV factor. It is priced at FIVE TIMES THE VALUE OF THE LAND! Holy Crap, Batman. a BROWN price in a GREEN neighborhood. Sad really. The only way it can ever sell is as a short sale, and that won't likely be anytime soon. Watch for this one to go off market or be on market for 2 plus years.
5) This is a nice house on market for almost 2 years. What's wrong with it? Switching to "Bird's Eye View". What the heck is that? Built between a huge condo complex and an industrial park within a stone's throw of the freeway. The assessor knows that's a no no, but the seller is ignoring the assessor and priced it at…wait for it…1.36 x AV and the house is in the parking lot of an industrial property! Let's try .96 x AV on that one.
OK…enough on delusional sellers.
Let's look at the houses that sold in less than 7 days.
1) Nice house in a 1.15 to 1.2 neighborhood but a smallish house with only one bathroom. Listed at 1.06 x AV sold the first week at full price. Maybe a little underpriced, but with only one bathroom…worked out for everyone. No surprises here.
2) A nice clean house that needs remodeling in a great neighborhood that normally sells at 1.2 x AV. Listed at 1.06 x AV. Sold in less than a week.
3) This one looks like it went too high. Obsolete home style, great staging but needs remodeling. 1.1 area. Listed at oh no…1.57 x AV RED ZONE and sold in 5 days. That should have been a pass. That's what we call "hope you plan to die there" cause no one else is going to pay 1.57 x AV for that!
4) Here's one in a primo Seattle neighborhood that usually sells for 1.25 x AV. Sold in 5 days at 1.23 x AV even though it was listed at 1.15 x AV. People are more likely to make the mistake of overpaying in Maple Leaf than Green Lake or in Ballard than Queen Anne, if you no what I mean. The fine nuances of value become most important in areas that border high prices, but don't command them, like example #3 above.
I'm not going to go look for a 5th example here, but I will say that looking at all of the houses sold in even less than 7 days, hard to find any that sold over asking, and those that did were not over by a significant amount. Example #4 was likely the largest sold to asking price example.
Now let's not forget about the Delusional Buyers.

1) Walk into the nicest remodeled house in a neighborhood that sells easily at 1.2 x AV on a bad day and want to get the house for .80 x AV. Then they complain there are no good houses for sale "at a good price". Do your homework. Check every sold property in the last 3-6 months and chart everything. IF the areas sells for .80, like parts of Duvall, well…I have it labled yellow for "caution". You probably want a 1.2 for 1.1 or a 1.1 for 1 or even a 1.1 for .95 if you can get it. I did a 1.1 for .85, but we did proceed with caution…and a structural engineer as well, and that was Winter. Learn to "look a gift horse in the mouth" when appropriate.
2) Wants to pay the same price per square foot of all of the sales he didn't want to buy…for the house he does want to buy. If you didn't like them, you already know they were worth less. Don't complain that you lost the house you finally found. Make sure you highlight on your charts the bad houses and the good houses and offer the good house factor when you find a good house. Don't hate all the 1.1 houses and then expect to get a great house at 1.1.
Don't leave your common sense at home. 2011 is the Battle of the Delusionals and the survival of the fittest.