An interesting situation has come to my attention via @Talontitle on Twitter: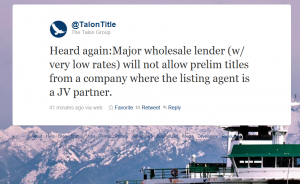 It seems that a major lender (a favorite of many local mortgage brokers) is refusing to allow listing agents to dictate who the title insurance provider will be when it is a joint venture relationship benefiting the listing agent's company.
Many of the local large real estate brokerages in our area indeed have joint venture relationships with title companies.   Rainier Title has partnerships with Coldwell Banker Bain and John L. Scott corporate offices and Commonwealth of the Pacific has a financial relationship with Windermere.
I haven't brokered a loan in years since we are a correspondent lender with our own credit lines… but I understand that this lender tends to offer some very competitive rates. I am wondering what a mortgage originator would do if they have a purchase where the listing agent has designated their JV title company and this lender is offering the lowest rates that day?
What would you do?  Let the consumer know and talk to the listing agent about (gasp!) switching title companies?  Or work with a different lender who's rates may not be as attractive but who will permit the JV relationship?