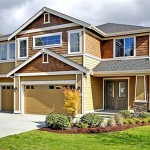 Lots of people want a NEW Construction home, the same way they want a new car vs a used car. However starting the home buying process at "I want NEW" is just as wrong as starting the home buying process at "I want a foreclosure".
As I have said many times, in my experience more people HATE their "home", and want to move to a different one, because of WHERE it is vs WHAT it is.
"…and underneath all is the land…" and land is a limited commodity. So where is that NEW home going to be built? Maybe…just maybe…on the wrong piece of land. The lot no one built on prior to 2011…for good reason. Even NEW(er) home will raise this issue. So if you have your heart set on a NEW home…the number one question you need to ask is:
WHY DIDN'T ANYONE BUILD A HOUSE ON THIS PIECE OF LAND BEFORE TODAY?
So many people limit their looking to the obvious and the house itself. If you are looking at new or newer construction…begin your investigations at the land that home is sitting on. Looked at one yesterday…without going to it…via Google Maps and the Stormwater Management Comprehensive Plan for that area, and the house was built on a lot IN "The Wetlands".
Think about that for a minute. What are the various reasons a lot might be available for someone to build homes on today…that is close in to work and good schools and shopping? It's common sense really. Especially today…after a huge building surge from 2004 to 2008…was there really a piece of land the builders didn't find and build on during that time? Yes…a few…but not many.
IF wanting a NEW house is your goal…you would be wise to first examine the land of it…and why no one built on it before (unless it is a tear-down lot). Oddly, the one I checked that was "in the wetlands", well…really, you have to ask yourself. How DID it get built there? Basically one is not allowed to build a house in Wetlands. Why does it not require flood insurance with drainage basins to the north, east AND south of the house?
Think you can "see" all that? Well what about too close to underground gas pipelines? Can't see that.
My point is you are better off listing all the things you want from a neighborhood, a location and a home, without regard to AGE of home. Then…if none that have the best location are new…well, maybe NEW Construction should not be the FIRST item on your "wish list".
Prioritize that wish list by the where…before the what in that where. It's common sense really, isn't it?
If it has been a Best Place to Live for 10 to 100 years…it was likely built on before yesterday.