If you are planning to buy a home in Seattle for about $350,000, it may be of some help for you to know how to generally evaluate the floor plan, before entering the home. This should make choosing homes to see from the internet photos, and other information available on the internet, a little easier and more productive.
We'll start with the basic 1-Story w/basement, often referred to as a "bungalow".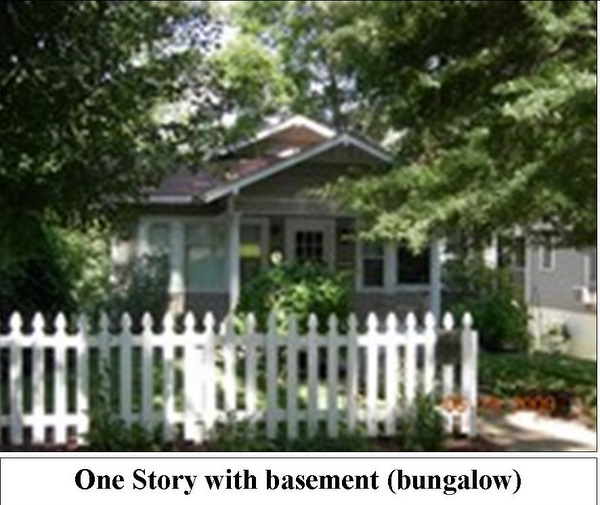 When you see a house for sale like this one in an Internet Listing, you first note the "Style" as "One Story with Basement". This is a required data field, so it should not be missing from the listing detail. This cross gabled style was most common from around 1917 to 1922 or so. There are several other styles of one story with basement homes, but the below information should be fairly common to all.
I happen to be looking at one of these right now in Seattle. The mls Listing says 1,550 sf. 1,550 sf sounds like a decent sized house…until you go to the house and say "too small". In fact, let's look at the actual comments from a client who viewed it at an open house.
(Note: In accordance with mls rules, the picture of the home is a "reasonable facsimile" from somewhere else in the Country. The rest of the detail is the actual info of a home viewed by my clients in Seattle. Mls rules prohibit identifying the actual home that is currently for sale, in a blog post.)
Actual Client Comments:
Hi Ardell,
We went to the Open House and here is what we liked:

– Beautiful kitchen, good size
– Nice modern upgrades
– nice backyard and outside area
– Neighborhood feel and street was nice and quiet

Things we didn't like:

– two small bedrooms on main floor, master in basement.

-The setup doesn't seem conducive to a young family. The rooms were VERY small on the main floor. Living room was small, but if we had to deal with this we could…just not ideal. No dining area or even any room for a table

– House runs on oil. Not sure we like the idea of that
Now that the client has identified some likes and dislikes…we look at the dislikes and check that info against the home's "main floor footprint". Not all "1,550" sf homes are alike. You need to break that down to save yourself a lot of time and trouble in your home search process.
An oddity in the Seattle Area as to how we identify square footage in the mls, requires that your FIRST step be to go to the King County Parcel Viewer to identify the square footage of the house (main floor footprint) vs the basement level.
What this client is actually saying, and not surprisingly, is that "a bungalow" may be too small for a family planning to have children.
The Breakdown of the house from the King County Parcel Viewer tells us that while the mls allows the description of "1,550 sf" for "the house", this is really a 775 sf house with a basement.
That is how using this process for subsequent home selections can save you a ton of time and disappointment.
Let's look at the home details and learn from both the data and the feedback from the client.
The County Record for this house, plus the mls system data, tells us: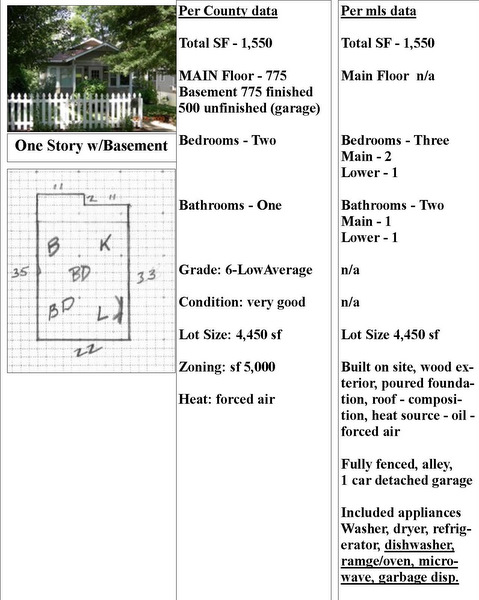 You can use the above format as a general template. If you are lucky, you will find a little hand drawn sketch of the original main floor footprint from the County Records site, as I did here.
A few notes:
– Lot size of 4,450 sf is acceptable…but smaller than current zoning requirements
– Oil heat…but forced air vs baseboard system. Forced air can be converted to gas and even have air conditioning, as long as gas is "available" in the street. A quick search of the area for neighbors with gas heat and or cooking tells me it is available, and in fact the majority of homes in the area use gas vs oil at present. Note- where is this oil TANK?
– Main floor foorprints of 800 sf are likely too small (I generally like to see at least 1,000 sf)
– Three bedrooms on one level likely preferred, but master on main and two up may work. (Note: There was no such thing as "a master bedroom" at the time this home was built. Master Bedrooms came out sometime after I was born 🙂 which would be 1954. Not common until the 70s or early 80s. "Where is the master bedroom?" may be an odd question if you are looking at a small home built in 1915.
– "dishwasher" included is often a strong indication of a kitchen upgrade, since dishwashers did not exist in 1915. However that upgrade may have been anytime since the 70s when dishwashers became more commonplace.
– an EXTRA 500 sf detached garage is a considerable feature, especially with alley access, as long as it doesn't take up the whole yard.
Looking at the sketch, the home "as built" was likely 22 feet across and 33 to 35 feet "deep". Assuming you need 3′ to "pass" into the rest of the home, that leaves only (22-3) 19 feet for the width of both the bedroom and living room on a combined basis. Hence the "bedroom is small" and "living room is small".
Once you have the basics covered by seeing a few homes, you can save yourself, and the homeowner, a lot of time and trouble by checking some of these things in advance. Master in the basement is noted in this case in the mls detail. The main floor being less than 800 sf is noted in the County Record.
By checking both the mls data AND the County Record data, you can better set your expectations before going to view a home.
If the seller left their home with the baby and drove around the block for a half hour and the feedback is "I don't like the master bedroom being in the basement", the seller will often get a little ticked off (or a LOT) given that information was available prior to viewing the home.
Coming up with some general parameters based on viewing homes at Open Houses or viewing vacant homes for sale, can save you and the seller a lot of time, trouble and frustration.
"A House is a Box you LIVE in".
There are really not a lot of variations as to how that "box" can be constructed, as noted in that linked post. You really shouldn't have to visit 100 homes to find the one that is best for you.
Making some general observations, and charting them out as you go
(or having your agent do that for you)
may help to keep you from "settling" for a house that you really don't want,
just because you are tired of "the process".
I will cover the other "basic" home styles in subsequent posts, and link them below. This multi-part series should help make your home search process a lot more productive, and enjoyable.