A lock extension is what is required when a loan does not close in the time frame as arranged with the original lock. Locks are available for 30, 45 or 60 days with the longer the period of time available for the lock, the higher the cost. So if you have a 30 day lock and for what ever reason, your transaction has not closed by day 30, you're in a situation where the lock may need to be extended.  It used to not be a huge expense if you were 1 day late past the extension, most lenders charged around 0.125% for an additional 7 days (extensions are typically offered in blocks of time, like locks).
Our government elected to pay for the Temporary Payroll Tax Cut by demanding a 0.10% fee on all new mortgages generated by Fannie or Freddie (conventional) and FHA. This roughly pencils out to an increase in rates of about 0.125% give or take.  What some banks have also done, is to increase the cost to extend loans. Some banks/lenders are calling this "temporary" and others are not.
Here's a sample from one lender who recently increased their extension fees for a second time!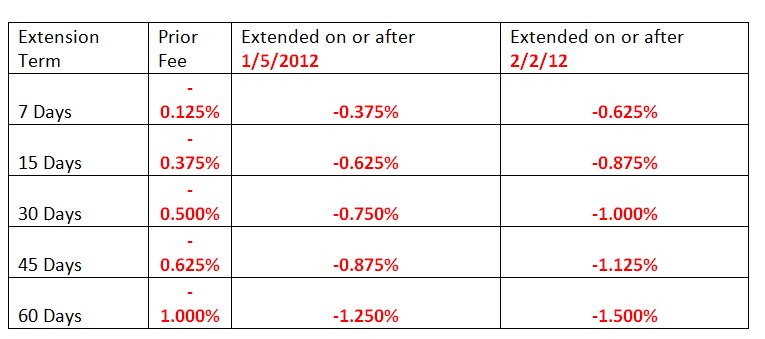 For example, if you have a $300,000 loan amount, prior to the government's "G-Fee" your extension fee would have been 0.125% of $300,000 = $375.  After February 2, 12, with this lender your cost to extend a rate for 7 days is now a whopping $1,875.
Every lender has their own extension fees. I recommend asking your originator what the cost may be should you need to extend.
Other possible options to consider, depending on where rates are should your lock be expiring, is letting a rate expire and re-locking, if your lender permits. Lenders have different policies with that as well and it's important that you discuss this with your mortgage originator.