I was running some stats the other day for Kirkland, Bellevue and Redmond home prices and the graph below came out a bit oddly, as if all prices are trending to 200 to 207 per square foot. I say "oddly" because some went UP to there while others went DOWN to there.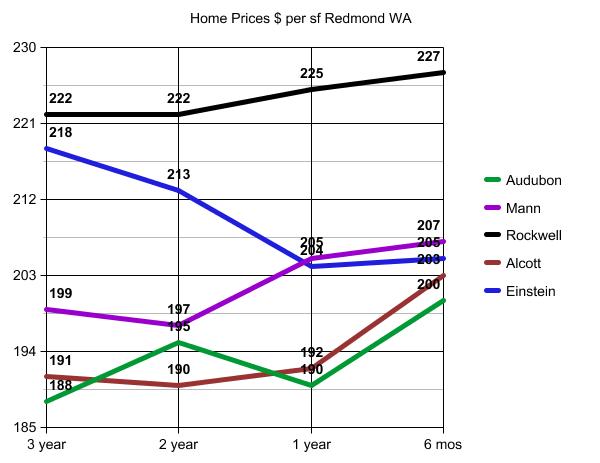 That is not to say that median home price within these various Elementary School boundaries of Rockwell, Mann, Einstein, Alcott and Audubon are all running together. In fact there is quite a variance as shown in the graph below.
As noted in my original post the numbers are graphed from low to high in this manner vs to start from zero…which would show the flatter market consequence, would not permit you to see the actual numbers one on top of the other, so I caused them to spread more dramatically only for the ease of reading the underlying data detail.
Rockwell Elementary…very consistent as would be expected given its "close in" location to Redmond Town Center and the general lack of new construction of single family homes within its borders.
Mann elementary still one of the best "bargain" areas relatively speaking and when lucky enough to find a good house there like the one my clients purchased between 2 and 3 years ago, within the timeframe of the charts, Mann continues to be one of the best places to get a home at a fair price that is not too far out.
Einstein…well the fluctuation there is greater for a few reasons some of which have to do with the school and some of which has to do with the decline from "new" to "used" and the turnover of homes too quickly back 2 or 3 years ago causing the dip. But looks like it is recovering nicely from all that.
Alcott and Audubon tell the story of people being willing to go a bit further out to get a newerish house, as in not built in the 60s or 70s, with a large yard at a reasonable price. Clearly 98053 and Sammamish have both been the surprise change in market conditions in 2012. Even though "close in" is still preferred, the willingness to go out further for good house and great school like this one my client's purchased this year with more land than being closer in was definitely a game changer in 2012 for Redmond.
********
Required Disclosure – Stats in the post and the charts and graphs herein are not compiled, verified or published by The Northwest Multiple Listing Service.
On a cumulative and median basis, prices are trending slightly up in the 3% to 6% range. But that is not to suggest that buyers need to panic, or sellers should be getting overly optimistic, as to potential sold prices.