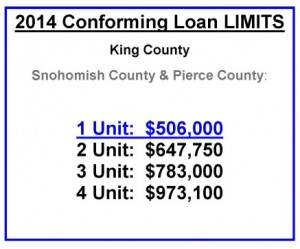 Back on December 12th, Rhonda posted that FHA etc Loan Limits would be coming down to the same level as previously lowered conventional rates. This came up in a recent discussion I was having with a client and thought the news, which I believe became effective 1/1/2014, should be highlighted a little better, as this is very important news for some people.
Not surprising to us inside the industry. But definitely important to anyone thinking about buying with minimum down and even for those who were not aware of the previously lowered limit for conventional financing.
Disclosure: I am not a lender. Just bringing this news to the forefront now that these limits have become effective so that more people heading out to buy a house in 2014 are aware of the changes.
I also think it is interesting to compare our loan limits to the much lower limits around the State of Washington.