Listen to enough conversations on the internet and you're bound to run into the concept of the long tail. It is a fascinating concept that helps define how people use the internet and helps clarify how real estate professionals can be successful on the internet.
The long tail is a concept that was first popularized by Chris Anderson as an article in Wired back in October of 2004 and grew into a popular blog devoted to the subject. The essence of the Long Tail is defined by the following chart: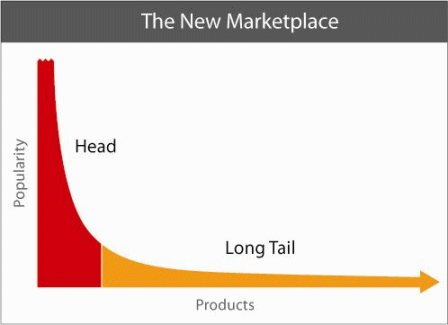 In this chart, the red areas represent the most commonly sought after (and served) markets… I think of them as the "best sellers". The yellow area represents the niche markets that only appeal to a small subset of people, and due to (the lack of) economies of scale, these markets tend to be under-served in most industries.
The concept of the long tail is that successful on-line business have (with very few exceptions) thrived by providing adequate services to the people under the yellow area of the curve. Sure you can go to Amazon to find the latest best sellers (red area), but you can also go to Amazon to find hundreds of thousands of titles that you won't find at your local bookshop (yellow area). Same thing with eBay. The internet is best situated to serve otherwise "hard-to-serve" people.
But economies of scale don't explain everything. The real beauty of the long tail is that it is often much easier to provide exceptional service to customers in the yellow area of the curve. If someone is searching for a generic topic on Amazon like [popular fiction
], it is really hard to know if they would be happy with the results. But if they were to search [accident analysis training manual
], you can be pretty sure that they will be happy with the results because there are only a few books dealing with this subject and Amazon will show them all!
The Long Tail and Real Estate
Recently, Chris over at RealtyBlogging asked "How are real estate and blogging alike?", and this is my answer. Both real estate and blogging thrive when they effectively serve a local and/or niche market (i.e. the yellow area under the curve).
The idea behind this should really be second nature to successful real estate agents who know they couldn't possibly serve all the niches within a major City. Rather, my experience has been that successful agents will say that they began by providing exceptional service to a small subset of people. Maybe their niche involves houseboats or condos, or a specific neighborhood… The specific niche doesn't matter. The important aspect is that a real estate agent realized that they were never going to be able to serve everyone well, so instead they focused on a small subset of people and learned that market inside-and-out.
Similarly, blogs almost always come with a strong point of view and serve a niche market well.
In addition, the internet has allowed a few companies to do a very similar thing that real estate professionals have always been doing. Namely be extremely relevant to a small subset of the overall population. Not only has Amazon and eBay found success this way, but Google has created a billion dollar industry out of this concept. The idea behind Google Ads is that they provide relevant ads to users on obscure topics. I doubt many lawyers would consider putting up a banner ad on Yahoo to attract people looking for mesothelioma lawyers, but give these lawyers a chance to reach people who just searched for [mesothelioma lawyers] on Google, and they are willing to pay $54.33 for one click!!!
This extremely relevance is exactly how the real estate agents of the future will be successful on the internet. Not only that, but I happen to think that blogging is a great way for agents to get out from under the "red" of the curve (where most real estate websites live… and die) and out into the long tail where their niche knowledge will be appreciated and rewarded!