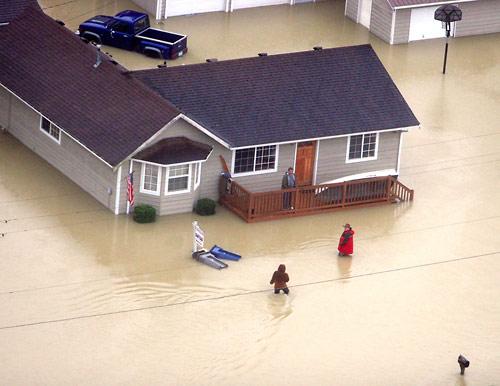 Waterfront Property for Sale! (See the For Sale sign by the garbage cans?)
Time to re-analyze the best marketing plan for this home! OK, Duvall realtors, let's have a Sunday Tour of Homes by Boat! Better yet, let's get this home Off the Market!  
Though this is an extreme case, Northwest sellers are having a Sale! Sellers that really need to sell are making incredible deals. This is more than a seasonal slump, this slump has been created by the media as much as anything, rates having dropped. We're seeing offers 10-15% off our normal market conditions of 99% list to sell.  But, like any sale, you have to buy from the available choices (like above?).  So buyers, if you want a deal, be prepared to not buy your 'perfect home'  For that, you'll have to wait until more buyers are back and the demand goes up enough for sellers to relist their homes and get our normal market values, which is anticipated (by some, me included) to be 3-10% better in 2007 than in 2006. 
It's really tempting to just take a vacation from now until February.  I should have saved more nuts for the winter!   My advice to sellers this year, JUST HOLD OFF selling until late January unless you have no choice or if you are going to sell and buy and be a bottom feeder yourself!