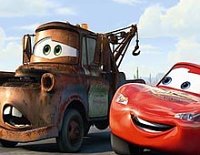 While spending quality time w/ the Cars addict in my family (the 3 year old who says "I wanna see the race car movie Daddy") got me thinking about something that moves faster than Lightning McQueen, the relentless march of high technology.

A couple weeks ago, Real Central VA, had a link to an interesting NAR Center for REALTOR Technology survey on what agents/brokers plan to spend on technology.
Some of the more interesting findings were
95% of agents use digital cameras
90% of them use cell phones
77% of them use PCs
71% have web business sites
60% of agents have IDX search features on their web site
Sites with IDX listings generate more leads than sites without listings.
30% of agents spent more than $2000 on technology in 2005
Less than 15% of those participating in lead generation programs are satisfied with the results.
67% of agents want their broker to expand their technology offerings.
84% of agents want the MLS to expand the technology and service offered.
Most internet leads come from broker web sites or agent web sites
Realtor.com was the 3rd largest source of internet leads
The Internet is the third most important source of leads (after referrals and repeat business), it is surprising that the majority of agents spent less than $500 to build or maintain their website, and that a super majority of brokers (67%) spent less than $1,000.
The net take away for me was that agents and brokers have an appetite for technology second only to MindCamp attendees, and yet the vast majority of them probably spend more money at Starbucks in given year than they do on their web sites! Given the importance of internet leads, the effectiveness of broker / agent web sites in capturing them, the disappointing effectiveness of lead generation problems, and appetite for more technology it seems to me that the industry on a whole is seriously under investing in technology. There are exceptions of course, but it seems that real estate tech spending is going to have to trend up. Otherwise the tech leaders around here, both inside & outside the industry (RedFin, John L Scott, CB Bain, Zillow, Trulia, etc) will increasingly make real estate professionals look like real estate amateurs.
So where are your tech dollars going in the next year? How much do you plan on spending? How will technology change how and where you use your marketing budgets? More Zillow, Craigslist, and Google ads, and less paper-based ones?