Today was a busy day and another one that required a bit of handholding and education. We have been working with a client for several months now as they prepare a home for sale. The house has been a rental for several years and when I saw it in early December it was in not so great condition from a cosmetic standpoint. The former tenants had ruined the carpets in a scant 2 years of renting and there was plenty of cosmetic damage on things such as walls and doors where the teenaged daughters had vented their sibling rivalry.
You wouldn't believe that this is the same house now.
I failed to take the photos I planned on today but I'll post some of the "before" and "during" shots here and then I'll follow those up later this week once we have the professional photographer's work done. If anyone looks at this post, I'd really appreciate some feedback on whether you think me and the client did a good job. I've been offering a higher level of service to listing clients where we provide a lot of things such as professional cleanings, window washing (in & out), yard service, pro photos, and staging. I think it makes a big difference and I'd like to get your opinion too of whether going through this much work is worth it from the consumer's point of view.
So, here are the beginning photos… stay tuned at the end of the week for the final shots…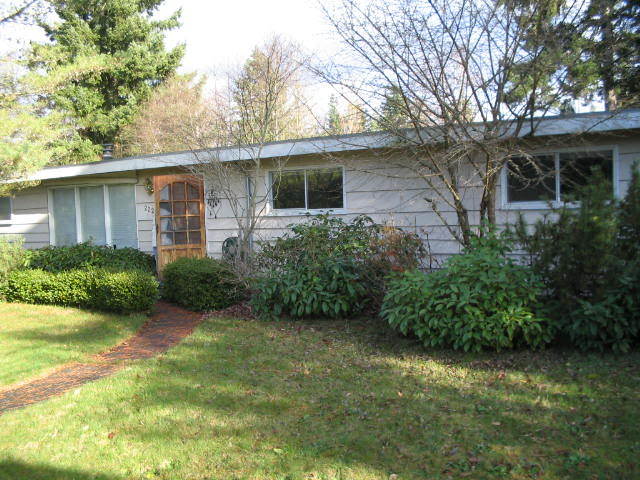 front of the home – it needed some pruning, edging and trimming as well as a fresh layout of beauty bark.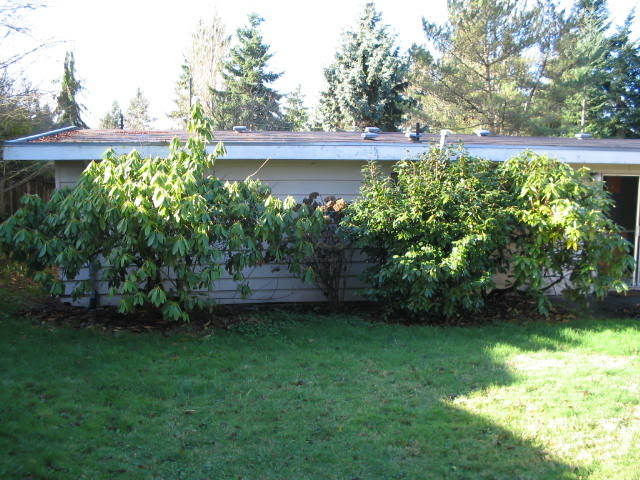 Back yard photo – note the shrubs that have grown up high and are making the house look smaller than it is. The house needs plants that are more in keeping with the size and dimension of the home.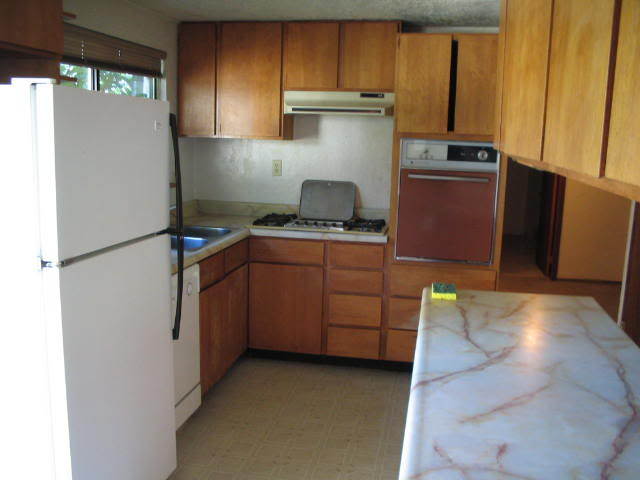 The kitchen and its cultured marble counter tops and older wall oven and gas stove top. Most people likely wouldn't even notice but the stove top is too big for the space. Note how it goes past the fan above and is underneath the cabinet to the left. This is a fire hazard and was fixed when the house was updated for sale.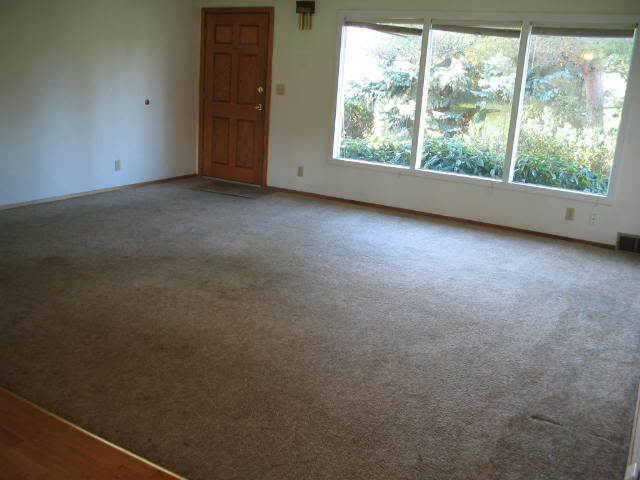 The living room carpet detail is hard to see here but let's just say that it wasn't the cleanest carpet I've ever seen. Lots of spots and stains. Underneath are what turned out to be really great oak floors as you can see a portion of them at the left corner of this photo. The floors were refinished prior to going on market this week. They look great and run throughout the length of the home in all bedrooms, hall, dining area and living room.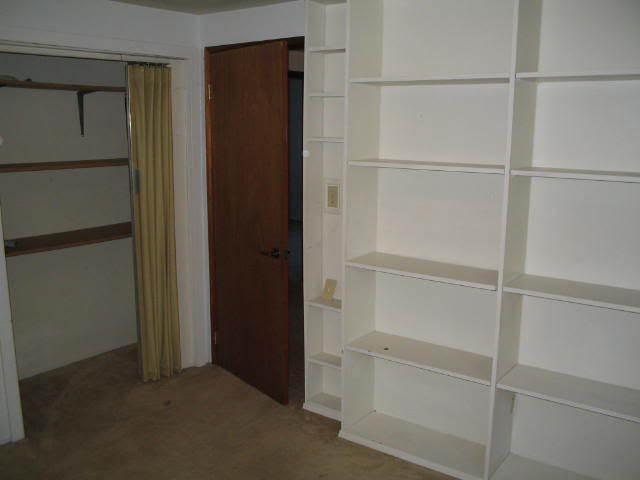 This is the 3rd bedroom just to give you an idea of how the room looked before since it is the smallest of the 3 regular bedrooms (not including the office that would likely qualify as a bedroom and has been used as such). We had the seller take out his home made bookcase, remove the dirty carpet, old trim and we had new doors installed.