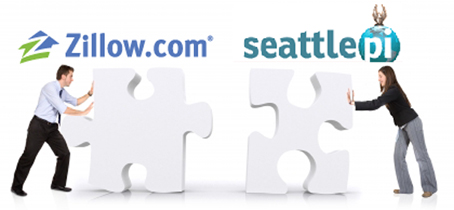 As is being widely announced in the news this morning, Zillow.com and the SeattlePI.com websites have partnered to offer co-branded website property searches. Ironically as of 8am you can find this story on Reuters, Inman News, and of course Twitter and Facebook. But Ironically it is still missing from the Homepage of SeattlePI.com.
The website will also offer Zillow's other features such as home values, "just sold" data, local market data, etc.  As well as their custom real estate community content via Zillow Advice and mortgage rates from their Mortgage Marketplace function.
This raises some interesting issues for other companies, organizations, brokerages, and agents who  have property search functionality built into their blogs and websites in order to drive traffic to their sites, and ultimately derive business from it. Rain City Guide is a great example of a website that has recently added property search functionality through M Realty in hopes of garnering more viewers, and potentially a revenue stream as well. Many agents, including myself, have spent years developing websites that we use to attract potential buyers and sellers. Is Zillow now officially our competition?
Strategically this makes a lot of sense for both companies as the SeattlePI is struggling to re-create it's business model after shutting down it's printed newspaper version in March. And Zillow has recently been monetizing their searches through selling advertising to agent's by zip codes.
I wonder what RCG's readers and contributers think of this turn of events. It's definately a "game changer". The question is, what's the new game going be like, and who's going to get to play?