I can't tell you how much I'm looking forward to participating at RE Blogworld in LasVegas this week.  I feel like I'm in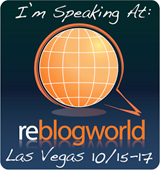 "nerd-vana"…in a good way, really!   I'm going to be on a panel with Jay Thompson, Derek  Overbey and Jeff Turner moderated by Matt Fagioli.  We're going to be the "first track" on Thursday, October 15,  covering Using Social Media for Real Estate.    And if the bantering I've witnessed via emails together is any indicator of what our panel should be like…it's going to not only be informing…it should be entertaining as well.    I'm totally honored to be included with this group and to be taking part in this event.
Social media has done so much for me and my career.  I absolutely love writing for the consumer and being able to work for people I "attract"  (and my past clients) instead of having to use "cold" methods such as post cards to strangers, up-calls or paying for "leads".   I'm looking forward to learning more ways to fine tune and streamline social media.
I hope to write a post while I'm at Blog World…I'll have to see how things go.  Odds are that you may not be seeing rates from me on Friday.  Because I'll be in Vegas, Baby!  🙂