NOTE:  This is just my interpretation of the new GFE and I am only a mortgage originator and blogger. This post is just based on my opinion.   Please check with your compliance department at your mortgage company to learn about the GFE requirements.
This the last post in my series of four on comparing HUD's new Good Faith Estimate to our existing GFE, which is retired on December 31, 2009.   I actually feel like I'm losing an old friend that I've relied on for years to help educate consumers.    HUD's new GFE does not disclose the total monthly mortgage payment (PITI), seller closing costs credits or funds needed for closing.
This is a snapshot of the bottom portion of my current Good Faith Estimate which shows the total payment (upper left corner), closing costs summary and funds needed for closing.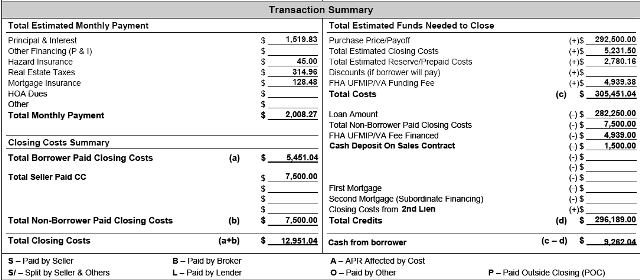 HUD obviously feels this type of detail must be overwhelming to the average consumer.  But why total payment, seller closing costs credits and funds needed for closing are missing leaves me scratching my head.
Below is HUD's summary of closing cost with the new Good Faith Estimate.

As compared to our "old" GFE (below) which clearly outlines the sales price, closing costs and prepaids, the seller credit of $7,500, credit to the buyer for their earnest money deposit of $1,500 and the financed upfront FHA mortgage insurance.   The buyer can also see the funds that are estimated to be due at closing on the purchase of their home.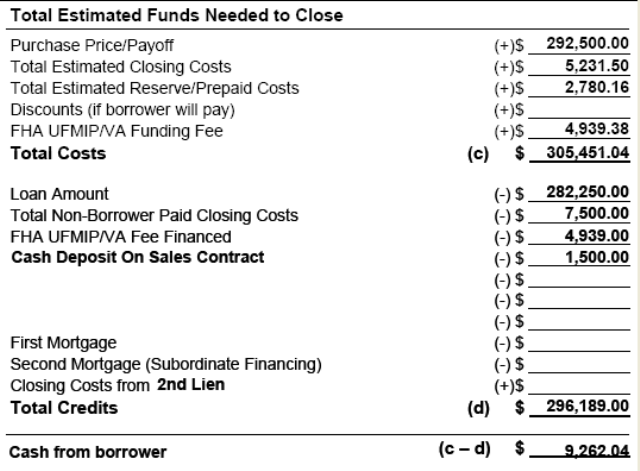 This is for the same transaction that I've been using throughout this series. 
Here is the closest thing you can find resembing a mortgage payment on the new GFE:

This figure above does not include property taxes or home owners insurance which will be included in the borrowers monthly mortgage payment.
Here's a close up of the mortgage payment on my old GFE:

This actually shows the total mortgage payment and will factor in the monthly home owners association dues (even though it is not a part of the actual mortgage payment).
It's a pity that PITI has been removed from the new GFE.
For more information about the new Good Faith Estimate, you can start reading HUD's newly revised 49 page: Shopping for your Home Loan. The GFE review starts on page 11.
Hey home buyers and/or borrowers: which good faith estiamte do you preferred? HUD's "new and improved" three page document with lump sum totals including closing costs you don't pay for? Or the existing (for a few more days) GFE that resembles your estimated HUD that you'll see at closing with details on the specfic closing costs, total monthly mortgage payment and funds due at closing?