Earlier today I posted my thoughts on the King County Housing Market for 2010 and received this question on twitter:
@VAF_Investments asks @ARDELLd – This downward price expectation kind of goes against your view late last year… What's changed?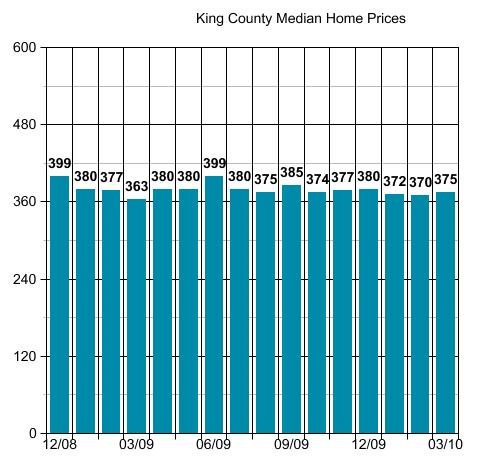 Generally speaking, my clients are making a short term decision to buy a home to live in based on a compelling reason in their life, vs a long term market timed decision. Consequently, in my world, the question becomes "If I am going to buy a home in the near future, when is the best time to do that? What is the best strategy?
In February of 2009 there was no question in my mind that March closings would likely be the lowest point of 2009. When I "called that bottom" I was greatly surprised that it made front page news, because it seemed like a great big "duh" to me at the time. The graph above shows you how that prediction played out through to present day.
New Year…New Clients…New Bottom Call. Last year I had a few clients purchase homes who I told to wait in 2008 and late 2007. In 2009, I didn't tell anyone to "wait" but I did tell a few people not to buy at all, and am still doing so. The minute someone says "I'm planning to sell it in 3 years" I do a big "Excuse Me?" One client wanted me to graph "appreciation" for each year over the next three years…I asked him to save me the time by sticking a big fat zero on that for me in each of the three columns on a net basis.
What's different this year? LOTS! Many people bought in anticipation of the Homebuyer Credit ending. I was at the gym yesterday and a young agent on the next treadmill was telling his friend that buyers had to hurry up before the credit expires. If every agent is telling every buyer to buy before the credit expires, how can they possibly NOT think that the market will go down after it expires? Boggles my mind that the same people saying "you must buy before April 30" are the same people saying the market will not go down AFTER that point.
There are many other factors, of course. But the Homebuyer Credit is not a small one in the big picture. The title of the PI Article last year was "Agent Predicts Housing Slump's Demise". In 2010 the "training wheels" will come off. The oxygen supply will be removed, and we will see what the market will do when caused to "stand on its own two feet".
I don't think the market will fall dramatically without further government intervention, because I think if it DOES fall dramatically there WILL be continued government intervention. So yes, I do expect Homes Prices will be lower than the median price of $362,700 from March of 2009, at least at some point in the 4th Quarter of 2010, and possibly before. I don't think we will see another 20% – 25% decline in prices, not because the fundamentals are stronger, but because I believe the government will come up with another plan if needed, to prevent that from happening.
Remember, most of the market decline transpired under the previous Administration. This new regime has proven its desire and ability to stabilize, if not grow, the market. I do think they will let this credit expire, and I do think they will decide what to do next…after they see how the market reacts to "pulling the plug".
Before they decide what to do next…don't be surprised to see a "new bottom" where median home prices in King County fall below $362,700. At this moment, without all of the March closings counted, the median for the first Quarter is $370,999 (maybe a little higher if I take out the houseboats) and at $372,475 for the month of March to date (this down from the $375,000 it was a few days ago). If I take out the houseboats and mobile homes…it is $375,000.
(The stats in this post are not compiled, posted or verified by The Northwest Multiple Listing Service)