Why did so many people buy houses they couldn't afford? I'm not talking about people who bought 5 houses to "FLIP", or the cash out refinance issues. I'm talking about the basic Buy A House to Live In IT bunch who never did a cash out refinance.
Well…on 2nd thought…let's leave those cash out refinance people in, as this "study" may explain WHY so many NEEDED to do a cash out refinance, and use their home as an ATM machine.
Let's start with the basic MODEL and examine where everything started to go sideways.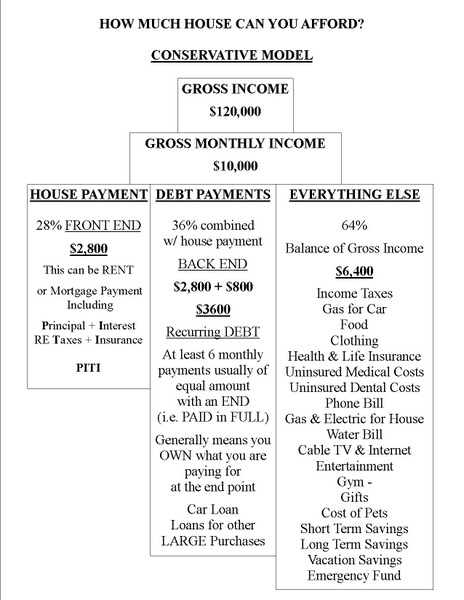 Qualifying Ratios ONLY WORK well when THE MIDDLE COLUMN is in sync.
Now that the dust has settled and we are not looking for some ONE to BLAME, let's look at the REALITY of what, exactly, is broken…so YOU can fix it. This is about you, as a buyer of a home, as you are the only one who can proceed on the RIGHT basis. No agent or lender can sort out that middle column for you. You must make the extra effort to QUALIFY YOURSELF!
Here's what happened, in a nutshell. EVERYONE'S BACK END WAS OUT!!!
Used to be, looking at my Chart inserted in this post, that IF YOUR DEBT PAYMENTS caused your TOTAL of housing payment + Debt to exceed the "back end allowance", your housing allowance was REDUCED accordingly.
EXAMPLE: Housing payment $2,800 (column one) Debt + Housing $4,000 (vs the allowable $3,600 in the Chart's middle column) equalled a REDUCTION in allowable housing payment from $2,800 to $2,400. 28% of Gross Income was ONLY the allowable amount IF your housing payment plus monthly recurring debt payments did not exceed 36% on a combined basis.
If you do not understand this up to this point, PLEASE, PLEASE ask questions as you should NOT be buying a house if you do not understand this. If you are not capable of understanding the basic accounting framework of home buying and home ownership, then do not buy a house. It really is THAT simple.
The Middle Column went out of whack when people started using their Credit Cards for Column Three items. Before ATM cards, people did not do that. Credit was for buying a home and LARGE purchases and MONEY was for buying everything else. Front End + Back End assumed that no one would buy a carton of milk or a loaf of bread on a credit card. Front End and Back End assumed that no one would use a credit card to go to a movie theater.
That said, what YOU need to do is look at your Total Credit Card debt and separate the balance into "used for LARGE purchases" vs "used for column three expenses".
The Lenders and the Real Estate Agents really can not do that for you. So what they DID (which proved to be disastrous) was EXPAND the back end ratio to include the usage of credit cards for column three expenses. This started when people LEASED cars vs buying them. Given you did not OWN the car at the end…this shifted the car payment from a column two expense to a column three expense.
Column Two is for large PURCHASES! Leasing a car is NOT a "purchase". Seriously…that was the EVENT that created a huge disconnect for Qualifying Ratios, combined with people not making a distinction between when they were using a Credit Card vs an ATM card for minor purchases. Going to the movies is not a LARGE PURCHASE worthy of using a Credit Card vs a Debit Card.
There's an old saying: "One Step Forward; Two Steps Back". What I am suggesting here is that we have taken Two Steps Forward, and need to take One Step Back. Reconstruct your Credit Card debt to LARGE purchases only. Do not buy a house until your small purchases and living expenses of Column Three are NEVER "financed".
If you NEED to buy your food with a credit card…you should not be buying a house. It's THAT simple.
********
Column Three went out of whack for a number of reasons, mostly related to Column Two events as noted above. The MAIN Column Three disrupt, not associated with Column Two, is about EARMARKED savings.
Used to be people had a "Christmas Club" savings account and a "Vacation Club" savings account and an Emergency Fund Savings account that was never touched except for dire emergency (and then repaid BACK into the Emergency Fund), and a Short Term savings account for "luxury items" and a Long Term Savings Account for retirement.
Buying a boat was a "luxury item" vs a "Large Purchase". "Large Purchase was a refrigerator, a washer and dryer, a bedroom set, etc. Things you needed long term, not things you WANTED long term. You saved for a Luxury Purchase – a large item that you WANTED and you charged a NEEDED large item to spread out the payments.
Two things largely contributed to the demise of Americans saving money and saving it in an earmarked way. One was the change from the standard 5% interest bearing passbook savings account. The other was the expansion of bank charges per account, that caused people to lump their savings into one account vs earmarking it by spreading it out among several designated purpose accounts. There was never a charge for a "christmas club" or a "vacation club", and with 5% interest, people saved for those things vs charging those things.
A third thing that changed was the ability for a homeowner to convert their non-deductible charge card interest to deductible "mortgage" interest via a "cash out" refinance to "consolidate" debt. Seemed like a financially "smart" thing to do…until your house was "upside down" and you needed to do a short sale. Ask yourself how many short sales are done to "forgive" the car loan and the student loans that were combined into their Mortgage Amount? That is a frightening thought, and not about a HOUSING Crisis at all!
Is there any hope for a true FIX? The answer is likely HIGH INTEREST RATES are needed. When interest rates are high, people save more. When interest rates are high, people put the right amount of forethought into buying a home.
For that reason I have to say that keeping interest rates low and fixing the economy all at the same time is an oxymoron. I don't want to see interest rates go to double digits, but until interest rates are back in the 7% to 8% range, I don't see much hope for an overall "fix". BUT, hopefully, if you "get" what I am saying here, you can at least fix it for YOU.
Also, an up front Tax Credit to REPLACE the Mortgage Interest Deduction would go a long way to preventing homeowners from creating an Umbrella Loan for their Car and Education and other non housing related debt, in order to qualify the interest paid as a "mortgage interest" deduction.
If you understand the chart above, and keep your "back end from falling out", you will clearly be a Giant Step ahead of most of your Peers. It's a NEW Decade. 2011 is the year of One Step Back to Sound Principals and reliable fundamentals. Good Luck with that. If you don't understand any part of this, please ASK!
Happy New Year!
The 2009 Version of the "same" principals
Can you modify the ratios from those in the Chart?
Half the battle is "won" when you know WHEN you are STRETCHING, and by how much.