Gross Income is sometimes a subjective factor, modified at The Underwriter's discretion. Most often that is the case whenever ANY part of the borrowers Gross Income is derived from overtime, bonus or commission, or the entire Gross Income is based on hourly wages vs salaried wages.
EVERY AGENT should understand these BASICS, as WE often know our clients longer and better than the lender who is giving you a pre-approval letter to attach to the buyer's offer. At a minimum, every agent should know that if their client is not purely "on salary", there may be some bumps along the way that may turn a preapproval into a loan denial.
Even if the lender did a full preapproval process, The Underwriter may require the employer to make a written statement regarding future bonus or commission or overtime income, that the employer will not put in writing. That can happen in any case, and sometimes a few days before closing, no matter how careful the loan originator was in gathering information prior to producing the preapproval letter.
AGENTS should know when the preapproval MAY be based on the "wrong facts", especially when you are getting a preapproval letter with short notice, and the lender knows the client for 15 minutes prior to giving the agent what they need to get the offer submitted quickly. Fully delegating this responsibility to the lender is inappropriate. An agent should know when to give the lender a "heads up" that $100,000 may indeed be "current" gross income, BUT it is likely that The Underwriter at the end of the day WILL NOT count ALL of that $100,000!
Getting a mortgage is not an "entitlement"…it is a business decision. Below are examples of how Lenders have historically "viewed" Gross Income calculations in most cases. But know that The Underwriter has the discretion to modify "as needed" based on inconsistencies.
First let's look at the basic chart I made for the purpose of further discussion: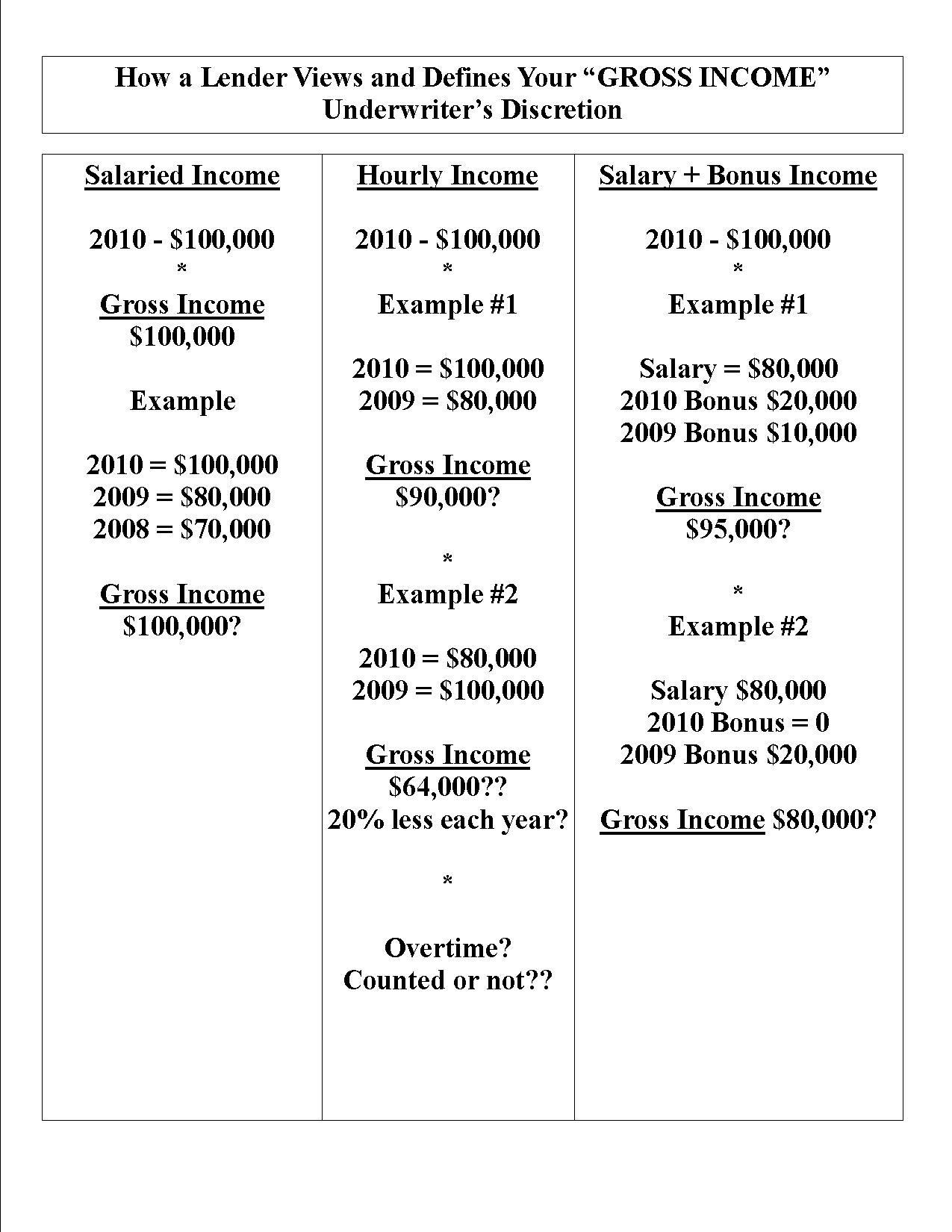 Column One: Salaried Income is almost always counted at current "face" value. Even if you just got a significant raise just prior to making an offer on the house, the lender will usually count it all. They will require at least one and often two paystubs at the NEW amount as proof that the raise is in effect, and ALL of the monies have to be salary vs hourly or bonus or commission based.
Column Two: If your wages are based on an hourly amount, RARELY will the Lender count it at its current annual amount based on today's hourly wage. I don't necessarily agree that hourly based wage earners should be treated differently than salaried ones, but I don't make "the rules".
If your hourly rate increased from $16 an hour to $24 an hour over the last two years, you normally need A FULL TWO YEAR HISTORY of earnings at the new hourly amount of $24, for the Lender to use that as your Gross Income. If you earned $16 an hour in 2009 and $19 an hour in 2010 and you WILL BE making $24 an hour in 2011, the Lender will usually average your annual wages of 2009 and 2010 and count your income at only $16 + $19 divided by two at ONLY $17.50 an hour vs the $24 that you are now making. Terrible, but true. They actually average your total earnings (not including overtime) for the two years, vs the hourly number.
HUGELY important for an agent and a lender to know if your wages are based on an hourly amount before issuing a preapproval letter.
Again, I really don't think that it is fair, as I have had clients with an over 20 year history with the same employer (Boeing) whose income was stated on an hourly vs salaried basis. Why that counts as "lesser" in the eyes of lenders, I don't know. Just is, in MOST if not all cases.
I also included an odd example in Column Two of The Underwriter deciding that if your income reduced by 20% that maybe that will happen again in the future. Once The Underwriter is in "their discretion" territory, there really is a lot of room for The Underwriter to do pretty much whatever they deem necessary to be comfortable with approving the loan. If there is a declining income vs an increasing income…expect problems and delays and be prepared for a potentially very bumpy ride to the "approved and funded" day.
Column Three: Bonus income is calculated the same as hourly income…a two year average. So if your income is part salary and part bonus, the safest way to proceed is based on the salaried portion only, especially if the bonus income is a small amount. If you do want to include the bonus income, you need to know that not only will the lender require a consistent history of bonus income, BUT may require your employer to put in writing that they expect that level of bonus to continue for X period of time into the future.
In these economic times it is The Underwriter's Discretion regarding how much to count OVERTIME and/or BONUS income. They may decide not to count it at all unless your employer is willing to guarantee that extra income for several years out from now.
Column Four: There is no Column Four BUT if there were a Column Four it would be for people whose ENTIRE income is commission based. Also in Column Four would be people whose entire income comes from a business venture.
Also, regardless of income source, if you are applying for a JUMBO loan…well, just about anything can happen. The number of hoops one may have to jump through to get a JUMBO loan are many and varied and change from lender to lender and from one minute to the next.
Likely the biggest snafu that can happen unexpectedly is when someone owns a rental property. Maybe one of the Lending Professionals can help with this in the comment section of the post. Suffice it to say that the Lender does not look at rental income the same way that someone who owns a rental does…not at all. They only count 75% of the rent as income, while counting all of the mortgage payment on the rental property as an expense. So if you think that $2,000 rent wipes away the $2,000 mortgage payment and is "a wash"…not so. So if you own a rental property, make sure you make that fact known BEFORE getting a preapproval letter and before making an offer on a house.
Last but not least is you cannot count the Rental Income of a property you are buying as a rental. Yes, we know you will be getting rent, but that rent is not counted AT ALL because you have no HISTORY of rental income from that property at time of purchase. Two or three years from now you can count that rental income when doing a refinance, but at time of purchase…you have to qualify to buy it without considering the income you will derive from it.
Some day when you are wondering why EVERY escrow that had a preapproval does not close…you may want to come back and read this again.