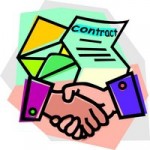 Real Estate Transactions have long depended on the underlying principle of "Proceeding in Good Faith". It's not something that we talk about much, as it is something we pretty much take for granted.
I raise this issue today as Craig has mentioned it a few times this year in his posts and comments, and most recently the other day in his post regarding "Good Faith Home Inspection Negotiations".
Before we can discuss how "Proceeding in Good Faith" applies to the Home Inspection specifically, we need to discuss how "Proceeding in Good Faith" applies to all real estate transactions, generally. When we are talking about this principle in real estate, we are talking about the Buyer and the Seller who are the "Parties To" the transaction. It is not about agents except to the extent that they represent someone who is acting and proceeding in good faith. Consequently the presence or absence of real estate agents in the transaction neither heightens nor diminishes the importance of the good faith process.
Good Faith BEGINS with a seller who wants to sell and a buyer who wants to buy. One would think this is always the case, but it is not. NO ONE can PROCEED "in good faith" if these two things are not present from the getgo.
While it may be hard for some to believe, not everyone who has their home listed for sale has the intent of actually selling it (at the price at which it will actually sell), and not everyone who makes a written offer actually has the intent of buying (that particular house). Who is and who is not Proceeding in Good Faith…well, that gets a little complicated.
Buyer Says: "What's wrong with this seller? Is he REALLY going to Let This Sale Fall Apart over a $150 fix to a leak under the sink?"
Seller Says: "Well it's a good thing that buyer DIDN"T buy my house, He oviously did NOT want it, if he was willing to walk away from it over a $150 fix to a leak under a sink! Anyone who is not willing to fix a leak under a sink shouldn't be a Home OWNER Period!"
Craig, in his post linked in this one says: " As a general rule, I think "good faith