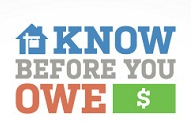 Consumers and industry professionals can vote on two options for the new Good Faith Estimate that was just released by the Consumer Finance Protection Bureau via their Know Before You Owe campaign.
The CFPB is segregating the "vote" (perhaps "survey" is a better term) between consumers and professionals opinions on the two versions of the proposed mortgage disclosure.
I recommend printing the examples to really get a good look at them.   They both appear to contain the same information, disclosed in different manners.  For example, one features terms at the top of the page and the other has projected payments over 30 years at the top.
I'm noticing three improvements right off the bat over our current Good Faith Estimate (HUD's attempt) which has been in effect since 2010:
total mortgage payment:  PITI vs PIMI.  The new GFE will actually include proposed taxes and home owners insurance.  HUDs 2010 GFE only discloses principle, interest and mortgage insurance (if any)
funds for closing.  Yes, it's true…the proposed forms actually help borrowers know what funds they should be bringing in at closing.  And it even factors…
credits from lender or seller!   The new form may want to just have this be "credits" since sometimes real estate agents contribute towards closing costs as well.
All three of these items have been sorely missed from HUD's creation that we've been mandated to use since 2010.
Mind you, I've only had these forms in my hot little hands for about a half hour…it looks like they're missing any place for rebate pricing (aka ysp as disclosed as a credit in Box 1, Line 2 of HUD's GFE).  This is a huge oversight in light of the Fed's Rule on Loan Originator Compensation.   I would also like to see a signature line added (this would eliminate documents that borrowers currently have to sign to state they have received the GFE).
And, if the CFPB is reading this post, I'd be a happy camper if they discontinued having the owners title policy (typically paid for by the seller in Washington state) being quoted on the GFE only to be credited back on the HUD.   This has been confusing for our local consumers and mortgage originators should NOT be held liable for a cost that is not associated with their borrower.  The owners title policy should be treated more like the excise tax: disclosed in areas when it is common practice the buyer pays that cost.
So what are you waiting for? Go check 'em out and let your opinion be known.