One of the most notable minor difficulties when buying new construction, that is a piece of dirt at time of contract, is staying on top of when it will close.
Often the builder requires that the buyer close within X days of "CO", Certificate of Occupancy. Basically 5 to 10 days from the house being completed is the norm.
BUT often it is hard to pinpoint that in advance without going over and checking where they are every few days. Can the appraiser and lender get their work done in a short time, if they are not notified that the house is almost done?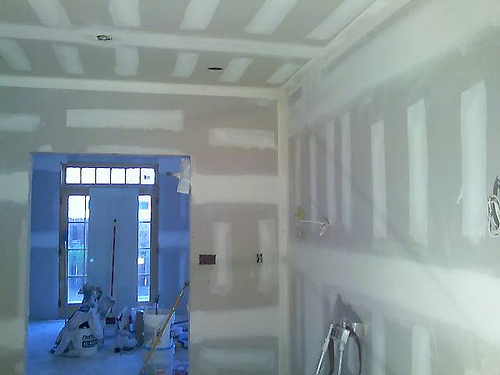 Working on one now where the lender scheduled the appraiser to go out yesterday. I just got back and the floorings aren't done, the toilet's not in on the main floor, can't get up the steps as they are carpeting upstairs and have rolls of padding on the steps. The cement truck was ready to pour the driveway, but it looks like rain is coming any second. So not sure how they are going to call that in the next 30 minutes.
If you are a cash buyer…no problem. But when the buyer is financing the home, it's a tight squeeze to meet the builder's deadline when the house isn't ready for the appraiser at the scheduled time.
A common rule of thumb is to start timing from "drywall" to close, as many of the local government inspections have to be done before the drywall covers the plumbing and electrical components.
The house doesn't look ready for the appraiser and clearly not for the CO. The original completion estimate was "mid June" and we are still hoping to close by June 24.
Amazing how fast the project usually moves at the end. There were three different teams of workers there today.
The cement guys were there.
The "hard surfaces" team was there doing the wood floors with the tile work complete.
The carpet guys…a different team, were there.
When you see 8 to 10 guys all working on different things at the same time…you will be amazed at how much can be done in a day…if it doesn't rain. That's a big IF around here. Looking pretty just about to rain at the moment. But…that's Seattle for you.
I still think the house will be done by the 24th…done in time for the appraisal to be done and the loan docs to be in escrow so as to close on the 24th? Still anybody's guess. I'll take a peek on Saturday to see if closing by the end of next week is looking possible. If the DID pour that driveway after I left today, even though it looks like rain, then there's a strong chance it will close on time for the furniture deliveries. 🙂