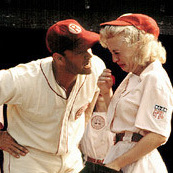 We all remember Tom Hanks in "A League of Their Own" and that great line "There's no CRYING in Baseball!" That doesn't mean it NEVER happens, that means it is not SUPPOSED to happen.
When it DOES happen it is usually a Joe Biden sized BFD!
Same goes for a Late Closing in Residential Real Estate transactions…with some exceptions. In a normal Residential Real Estate Contract, you put down Earnest Money WHICH YOU ARE SUPPOSED TO LOSE under certain conditions. People often don't know this OR they forget this.
Most often agents probably don't say "Oh, by the way you may lose that $10,000" while the buyer is writing the check. They just "assume" the buyer knows what Earnest Money is. Telling people they may lose $10,000 is just not something most agents like to say when someone is making an offer on a house. BUT if the day the buyer may lose it, is the first time they've heard of that possibility, the *chocolate* is going to hit the fan…and often does!
Earnest Money is the amount you ARE WILLING to lose if…
If you COULD NOT LOSE YOUR EARNEST MONEY we would not require Earnest Money as a "BINDER" in most Residential Real Estate Transactions. Still the minute the "you might lose your Earnest Money if…" situation comes up, people act like no one should ever utter those words. Odd…but true.
Buyers write those big, fat Earnest Money Checks without much thought to LOSING that money…until faced with the words "Your Earnest Money is NOW in Jeopardy". Late closings enter that realm of possibility. Often that can turn into a "Let's SHOOT the Messenger" knee-jerk reaction. But the reality is…someone, sometimes, has to be the bearer of that bad news.
So why IS the main rule  "No LATE in Real Estate