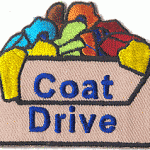 I'm getting all excited about seeing my family on Thanksgiving!
In the Spirit of Giving…let's all bring some warmth via new or slightly used coats, sweaters, gloves, scarves…we all have a ski hat or two that we've been given and never worn!
Your gifts of warmth accepted and appreciated through December 3rd! All donations will go to Friends of Youth in Redmond.
For more info, see this post written by Carolann Joy Salon. They have a drop off point at their shop at 8336 164th Ave NE Redmond, WA 98052 (The White Victorian House next to the 7/11) or contact Friends of Youth direct at 425-869-6490.
"Your donated coats don't have to be brand new; gently used coats welcome. Other types of outwear are acceptable and appreciated, like sweaters, jackets and sweatshirts. Even blankets, hats or gloves could help someone stay warm this season."
If anyone wants to set up a drop off point in another location, I will be happy to pick up and bring over to the Eastside at the end of the drive as well. Just email me or give me a call.