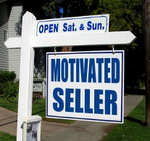 Why is it that when you call to set up appointments to see homes that are for sale, the owner that gives you the longest song and dance, is the one that says "Motivated Seller"? It's as if the agent is saying… I know the owner doesn't appear to be motivated…but please ignore that.
Generally an agent calls to make an appointment and says something like: "Hello. I am planning to show your home today between 4 p.m. and 5 p.m." The potential responses from the other end of the phone should be:
1) Thank You
2) NO…sorry, that's not a good time.
Answers come in all forms:
1) Well I was going to go to the store, but I guess I could stay and clean up and go to the store later…
2) Can you come on Tuesday instead of today? Tuesday is a good day for me.
3) Can you call my agent because I like her to be here when agents show the home so she can tell you about all of the wonderful things about my home?
4) Is it a "serious" buyer? Because I don't want people coming who aren't serious buyers.
It's a yes or no question. If your home is for sale and an agent calls to show the home, remember that is what you are supposed to WANT to happen!
Say Thank You and Yes…whenever possible.