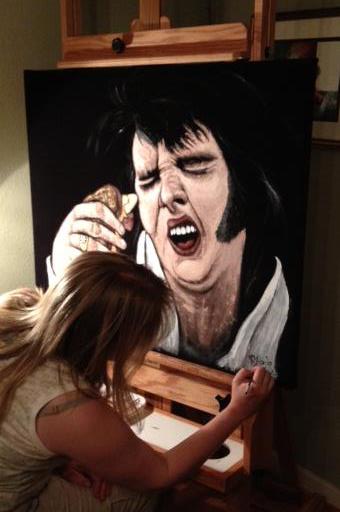 I'm very honored to have been included in this years Seattle Bumbershoot.  I recently started painting earlier this year for a hobby. I had (have) no expectations where my paintings may take me – it's all just for fun.
What is especially fun is to be asked to participate in this year's Bumbershoot festival at the Seattle Center by Marlow Harris.  Marlow, along with her husband, Jo David, are curating an exhibit to tribute the 50th anniversary of Elvis at the World Fair in Seattle…. Elvistravagaza.
When I dropped off my painting at Marlow's home, I was blown away by the vast array of the artwork.  Other (I say other as if I'm one of them) artist were drooling….knowing of the other artist…which, I will admit here, I was clueless.. probably after seeing my painting, you might say I'm clueless too!
IF you want to see the artist work for FREE, you can do so on Friday, August 31, 2012…..after that, you'll need to pay the price of the ticket to Bumbershoot ($45 – $50 a day).
UPDATE 9/3/2012 9:00 AM:  Today is your last chance to see Elvistravaganza, which includes my painting, at Bumbershoot.  The painting is being auctioned with proceeds benefiting Cafe Racer Love and as of yesterday, when I was at Bumbershoot, the bidding was up to $400!  If you're interested in placing a bid, please contact Marlow Harris ASAP.