Where do you find inspiration?
Out of all the places to find inspiration for a blog post, my current favorite is deep within the RCG stats where I can find the search terms that people use to reach this site. Today, someone came to RCG looking for: [things+you+should+know+before+moving+to+Seattle], and while we likely disappointed that particular visitor, I would like to make amends by offering up this list of ten things you should know before moving to Seattle: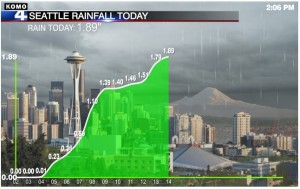 1) It rains.
2) No really, it rains a lot here. Despite what they say about it raining more in Atlanta, Boston, or D.C., the rain in Seattle can be like a slow trickle that never turns off. But the rain is okay… really… because one day… some day… it stops. And on those first few warm, sunny spring days, all of life is good in a way that Californians will never understand (unless they move to Seattle).
3) Seattle isn't always comfortable being a high-tech town. Sure we design operating systems, sell stuff online, try to appraise every home in America and stream lots of music and movies, but a substantial portion of the population relates much more to the art of building airplanes.
4) Consensus Rules. Just agree with me on this one or I'll never be able to get to #5.
5) Traffic Rules. People in Seattle talk a lot more about traffic than the weather. Depending on where you are moving from, traffic will either be horrible or a non-issue. Most blue-state people will laugh at Seattle traffic because you can normally get between any two points in the City in under a half-hour at all times of the day. Red-state people see the parking lot known as SR 520 and wonder why we haven't build another bridge yet (see #4 for a hint at the answer).
6) Seattle is not that big. We have all the stuff associated with life in a major city: Theaters, traffic, ballets, sports teams, traffic, skyscrapers, music, etc., but you really don't have to travel far to feel like you are in rural America.
7) Seattle is closer to Asia than Mexico. If one of the staples of your diet consists of cheap and tasty Mexican food, then you will eventually replace that staple with Pho. The sooner you accept this (and the sooner you stop saying "The Mexican food is so much better in California"), the sooner Seattleites will let you know about the good Asian restaurants. (And by the way, since we're talking about good food, I feel obliged to mention that the Mexican food I remember growing up with in California was so much better than anything you can find in Seattle…)
8) The intersection of NE 50th St and 40th Ave NE is about a mile away from 50th Ave NE and NE 40th St. In the Seattle area, all the street names are numbered and given one of nine directions (NW, N, NE, SW, S, SE, E, W or blank). The numbers begin at 1 in downtown Seattle and radiate out wards. The directions also radiate out, but are city specific, unless, of course, they aren't… Like at the intersection of 244th St SW, 100th Ave W, N 205th St and 8th Ave NW. There is logic to the entire street system and if you live here long enough, you will understand. Until then, you will be confused and miss appointments, meetings, birthdays, etc.. On a related real estate note, if you are new to Seattle, do not attempt to search for a home without a real estate agent. The street system was designed by a committee of real estate agents who wanted to ensure that you need their help to locate a home. 😉 Also on a related note, Redfin has proposed new street names (featuring real names) for all streets in a effort to ensure the viability of their business model, but at this point, they are still very far from getting consensus on their proposed naming convention.
9) Paul Allen.
10) Despite what you might have read in Wired, Fremont is the Center of the Universe.
Have I covered everything?