[photopress:glenn_1_2.jpg,thumb,alignright](This Article is Posted By Glenn Kelman, CEO of Redfin) 
Just kidding! But I did want to start by acknowledging that Redfin hasn't always been the darling of Rain City Guide, so we're especially grateful that you would allow us to post here as part of the Yankee Real Estate Blog Swap. We're real estate agents like you, and we're online entrepreneurs too, so we have plenty to talk about (Meanwhile, Rain City Guide's Ardell has seized controls of the Redfin blog, and begun broadcasting her pirate signal to Redfin's dazed subscribers). 
Here's our top-eleven list of what you should know about Redfin:
 1.       What surprised me most since joining Redfin: that Zillow didn't do what we're doing, real estate e-commerce. What a relief! It's less profitable and more difficult than ads, but it's more satisfying for us, and more fun.
 2.       What the second-biggest surprise was: that I would like the real estate part of the job, not just the web part. It's nice to look up from your computer and see someone buying her first house. Moments like that have been schlockified by the real estate industry unto death, but they're still nice. That half our office is filled with real estate agents makes the place more lively than if it were just the typical software nerd cave, which is what I'm used to.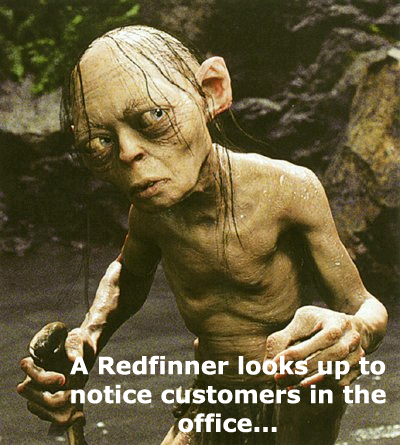 3.       The best part of my day: reading your blogs, when really I have plenty of other stuff I should be doing too. You're funny and insightful. Calling me a jackass just convinces me you're telling the truth.
 4.       What I like best about the real estate industry: it's filled with whackos, misfits and entrepreneurs. Our kind of people. 
5.       What I dislike about the real estate industry: all the bull-shitake. It hurts our industry more than we realize. 
6.       The only thing you do that drives us crazy: calling Redfin a discounter. We're not a discount brokerage, any more than Amazon.com is Half-Price Books. Online service can be different and even better in some ways than traditional service, not just less than "full service." It seems like one of those intentional digs, like Republicans saying "the Democrat party" or Democrats calling the vice-president "Dick." 
7.       What's scariest about the inner workings of Redfin: losing money, even if it's less than we planned. Our real estate operation throws off profits, but not enough to pay our engineers. This is why the holiday party was hosted at my house again this year…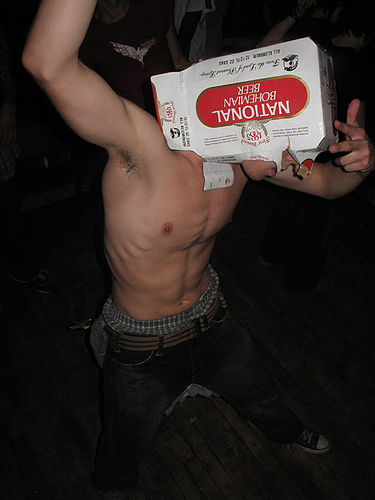 8.       What perception is most inaccurate: that Redfin is arrogant. Actually, we have a self-esteem problem. Every time we meet someone who compliments our site, we end up tearfully promising to make it better. Last week, I started wearing this messed-up rubber night-guard because I fret so much in my sleep about how we could improve Redfin.com… 
9.       What shows that we listen: you guilt-tripped us into free home tours, even though it hasn't helped sales, even though I still feel that when you sign up to sell a house, you should be clear about whether you're willing to show it. But why argue? Ardell convinced us to do it. It may not seem like we're listening, but we always are.
10.     How I feel about being in the papers: excited yes, but also sort of appalled. I hate to hear my voice on the answering machine. Before testifying to Congress, I thought I was going to puke. I often get depressed after being interviewed by journalists about Redfin-related controversy, for the same reason that nobody likes a pro athlete's airing a grudge on TV, rather than working it out privately. It's just that we can't seem to work it out any other way, with brokers, with the MLS, with the real estate commissioners and law-makers. And we can't allow our customers to be intimidated either. 
11.     What is most important for people to know about Redfin: even though we've made plenty of mistakes, we make the world stop for our customers. No matter what you think of Redfin, a company with that as its core value can't be all bad for real estate…
OK, that's it, back to work! Thank you very much for allowing me to post here, and to everyone who contributes to this amazing blog.
Be sure to vist all the Yankee Blog Swappers:  Transparent Real Estate's Pat Kitano vs. Zillow Blog's Drew Meyers  RSS Pieces' Mary McKnight vs. Future of Real Estate Marketing's Joel Burslem   St. Paul Real Estate Blog's Teresa Boardman vs. Phoenix Real Estate Guy's Jay Thompson  3 Ocean Real Estate's Kevin Boer vs. SLC Real Estate's Nigel Swaby Issaquah Undressed's Larry Cragun vs. Maury Properties' Andrew Maury Chicago Home Weblog's Geno Petro vs. NY Houses 4 Sales' Christine Forgione Phoenix Arizona Real Estate Blog's Jonathan Dalton vs. Real Estate Snippets' Bonnie EricksonThe boys of Sellsius vs. Real Estate Tomato's Jim Cronin  ML Podcast's Michael Price vs. FamousAgents.com's Elise Wright  My Tech Opinion's Reggie Nicolay vs. Ubertor's Steve JaggerRedfin's Glenn Kelman vs. Rain City Guide's Ardell DellaLoggiaCondoDomain's Anthony Longo vs. miOaklandCounty's Maureen Francis The San Diego Home Blog's Kris Berg vs. Urban Dig's Noah Rosenblatt The Property Monger's Jon Ernest vs. XBroker's Jeff Corbett Realty Blogging's Richard Nacht vs. The Mortgage Reports' Dan Green Christian Real Estate Network's Justin Smith vs. Wanna Network's Tony Senna  Sacramento Voice's Gena Riede vs. Max Sell's Brad Nix     For an overview of the event and all its participants, please visit www.YankeeBlogSwap.com.