So…you may be wondering what all the Hoo-Ha is about.
The posts and comments in the above links are embarrassing to the Real Estate Industry at best, and convey a HUGE misunderstanding between the "Agents and the Nerds".
Remember Glenn's "Memo from Nerd-Land to Realtors: Drop Dead" post? Well…let's just say the Industry's immediate response to Redfin's Scouting Reports was that same message…in reverse…for now.
The issues are many and varied, as they always are.
How many transactions does an agent have under their belt was the primary focus of this Redfin attempt at "transparency".
* * * * * * * * * * * * * *Why is TRUTH creating so much controversy? Simple. Who's Truth???* * * * * * * * * * * * *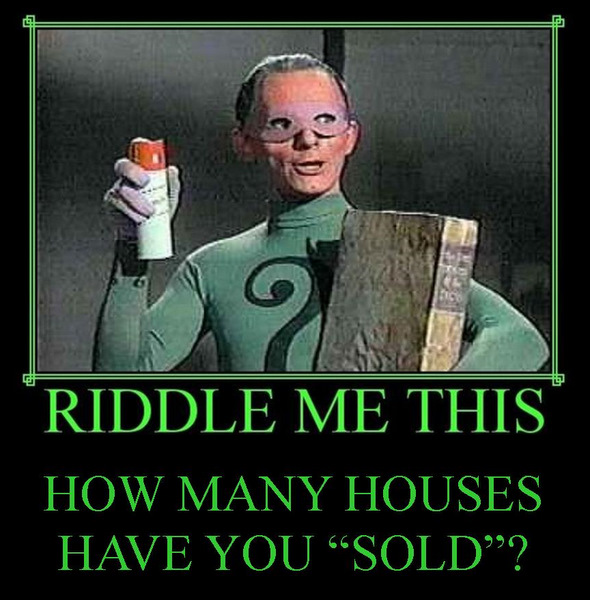 LET'S LOOK AT ONE OF THE KEY POINTS OF THE DISPUTE

USING THE CHART and SCREEN SHOT BELOW.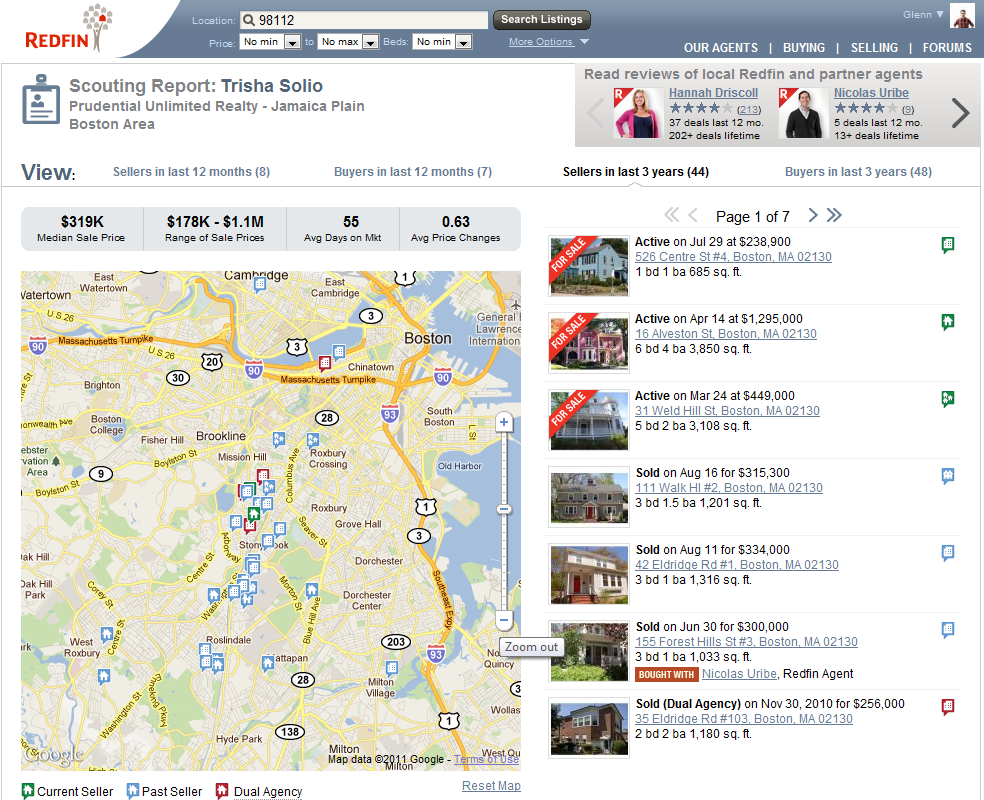 OK…Right off the bat…HOUSTON…WE HAVE A PROBLEM!!!
In this corner…we have Ms. Traditional Agent with 8 sellers and 7 buyers in a 12 month period.
In this corner…we have…drumroll please…Ms. Redfin Agent with 37 "deals" in a 12 month period…no destinction between listings sold or buyers helped and 212 "DEALS IN A LIFETIME!" with no "lifetime" stats for anyone else.
Since every ONE Redfin agent is FIVE licensed agents, per the Redfin site,
that 37 for "the Redfin Agent"
is really only 7.40 compared to Ms. Prudential's 15,
isn't it?
37 "deals" divided by 5 licensees = 7.40 each.
C'mon Matt…I love ya. But treated everyone "the same"? I know you truly believe that in your heart of hearts…but your model is just so different that it stacks the deck in your favor. I'm sure after reading this, you will understand what all the hoo-ha is about. That is my goal…to bring both sides a little closer together, so Scouting Reports may in fact BE a future reality.
It would be great! It could be great! But, you can't expect mls sytems or other agents to "stack their deck" the same way that your model does, can you? I mean really.
If one Traditional Brokerage put ALL the company's sales in the names of TEN of their 100 agents…wouldn't you call them "Liar, Liar…pants on Fire?" …and yet, that is what you are doing. God Forbid a Traditional Company would do that…you'd tear them to shreds!
Below, See Why the Redfin Data is SO MISLEADING! in a comparison of this type.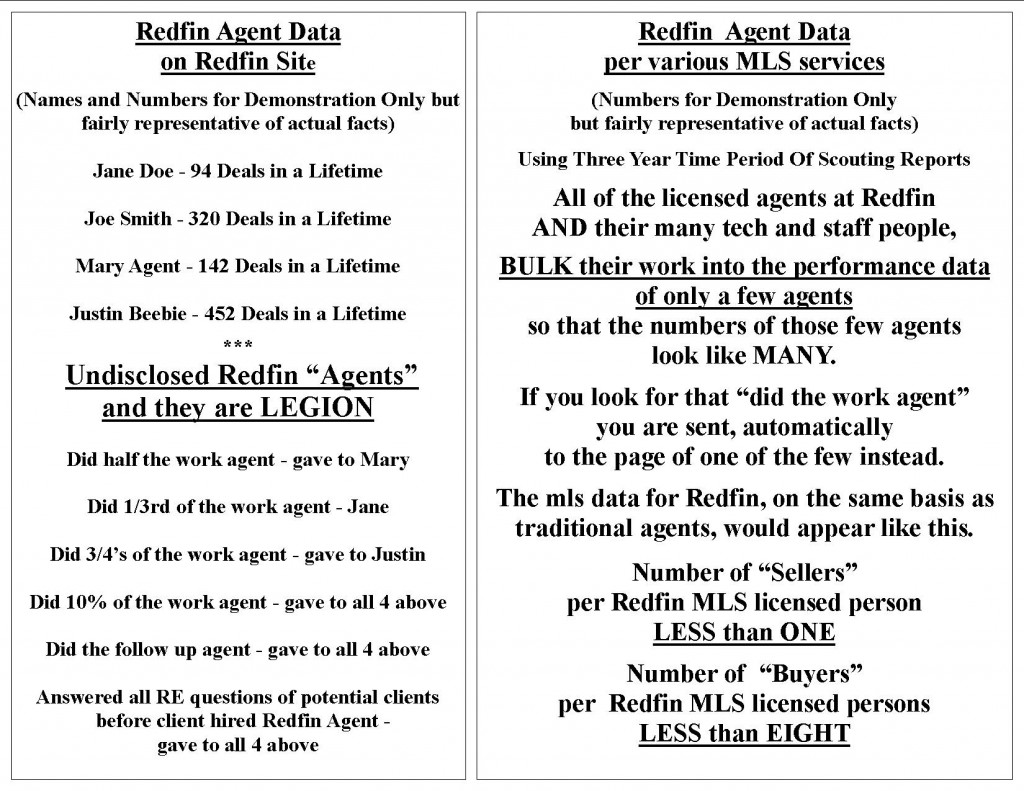 There are tons of comments all over the internet freaking out about all this, and rightly so, and from both sides of the equation.
To my good friend Jeff Turner who said to me that Homebuyers Didn't ASK For THIS, I offer this quote,
"Steve Jobs Knew What We Wanted Before We Knew We Wanted It."
THAT is what Redfin, and as Glenn Kelman put it "Nerd-Land", is all about. The Traditional Industry makes what THEY want consumers to want…and then spoon feeds it to them with a little bit of sugar to make the medicine go down.
It is near impossible for Traditional Agents to understand Redfin, or Glenn Kelman, or Matt Goyer, because we are in the same industry, kind of. That makes every act of theirs "suspect" in the minds of their traditional brokerage "competition". Or…perhaps…the darts are thrown merely to hold them at bay.
BUT what OUR INDUSTRY needs to "get" in order to understand Redfin and the Future of Real Estate, is the understanding of "Nerd Values". I stole that term from Craig Newmark.
If you can understand Craig Newmark…even just a little bit, and I urge you to try, you will understand Redfin and what Redfin is about.
A few relevant quotes from Craig Newmark as seen in this video:
"Doing WELL by doing GOOD."

"The SEA of Goodwill"

"…good intentions are REQUIRED…"

"LikeMinded.Org"

Nerd's WILL: – "Annoy Them Into That Mode That Has Value."
People Call Redfin "an outsider" BUT…remember this…Craig Newmark when creating Craigslist was ALSO "an outsider".
Redfin is to Real Estate as Craigslist is to Classified Advertising.

The Nerds will be heard, and will infiltrate every aspect of our lives, until they beat down the selfish intentions and replace those with good intentions. That is the FUTURE. That IS Social Media. That IS blogging. That IS The Internet.
"People are normally trustworthy and generous, and the Internet brings the good out far more than the bad." Craig Newmark
The Future of Real Estate will lie in these principals. The Nerds will "annoy (us) into that mode that has value". In the meantime…the industry as a whole…well most of it…will keep responding with THIS.