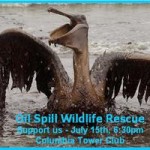 Thursday
*
July 15th
*
there will be a charity event at The Columbia Tower Club at 6:30 p.m. to benefit The Nature Conservancy and help with their Wildlife Relief efforts.
Tickets are $35. Ticket purchase and full event info can be found at the Oil Spill Wildlife Rescue Event site.
For the ticket price of $35 participants will get:
1) Flavor of Seattle local dining cards – normally retailing at $35 (up to $500 in savings).
2) Complementary hors d'oeuvres
3) 10 raffle tickets good for the chance to win some fantastic donated prizes
The 10 raffle tickets alone offer an amazing array of potential side benefits of assisting in this cause:
AUCTION and RAFFLE Items are coming from the below local establishments (list not all inclusive) and the $35 entrance fee gives you 10 raffle tickets toward the drawing.
The Four Seasons
The Hyatt
John Howie Steak
Sea Star Restaurant
Dulces Latin Bistro
Le Gourmand Restaurant
Ray's Boathouse
Cafe Campagne
Toulouse Petit
Swinery Meats
DeLille Cellars
O-Wines
Secret Stash Seasalts
Chef Amadeus
Liberty Bars
Fresh Seafood
Herban Creations
A great night out in the clouds at The Columbia Tower Club (business casual dress required), a great cause AND a great deal! Hope to see you all there…6:30 p.m. Thursday, July 15th.