I think most people know that offering a carpet credit does not work…except that many sellers and real estate agents still fall back on the language "$5,000 allowance for carpet" as a lazy way out.
1) It doesn't work because once people see filthy, pet stained carpet, they don't buy the house period unless it is a super discount of well over the cost of replacing carpet.
2) It doesn't work because the seller's idea of what carpet will cost and the buyer's idea of what carpet will cost is not nearly the same.
3) It doesn't work because many areas where there is carpet in the home will not be replaced with carpet by the new owner. If there is nice fresh clean carpet there, they will buy the house and change some areas to wood later. But if there is dirty filthy carpet there then they have to come up with the money right away to put wood, and that is usually not practical for many people buying a home.
Back in the 90's through 2004 or so the answer was easy. You went to Home Depot and said "Realtor Beige" and you were done. But Realtor beige went out of style. Realtor Beige was replaced with caramel colored or sage frieze, but that fad only lasted about 18 months on the sage and never worked for higher end homes.
If you have filthy carpet then you have to replace it with clean carpet. You don't want to spend a ton of money on that carpet for a lot of reasons, not the least of which is that the buyer may cut it out and throw it away in short order in some, but not all, of the places where you put it. You need a nice clean blank canvass that someone can live with for two to five years. If you have a higher end home costing $700,000 or more…stop reading now. This is more for the standard $450,000 or less townhome or split-entry or tri-level. Once you get to a full and newer two story home costing $650,000 plus…different answer. This answer is also good for condos, apartments and rental properties.
Below is a picture of the carpet. I might not choose this color, which is a fleck blend, but this carpet is so low in cost that it only comes in one color. 🙂 You want to minimize cost and maximize clean and odor free and utilitarian type serviceable for most people…i.e. neutral as to color but not too white-light.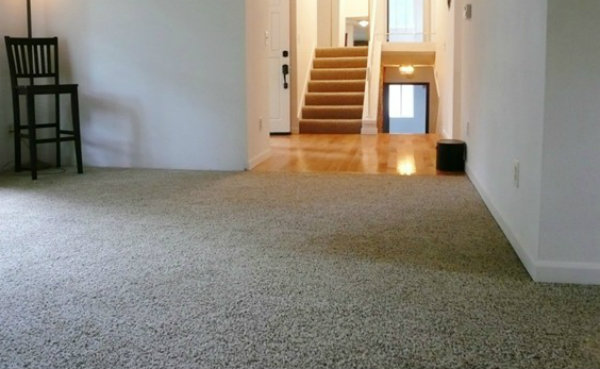 Let's jump straight to cost since cost is the reason why I use this carpet over and over again. It is a Home Depot product called…uh oh. They don't have it anymore. 🙂 I am writing this post for a client so I will proceed with a suitable replacement carpet and update the costing. The carpet I was using was only 55 cents per square foot and then it went up to 62 cents a square foot. But the option is not currently available and the lowest priced replacement is 90 cents a square foot. Let's allow $1.00 a square foot for a "twist" carpet. There are several options at Home Depot between $.90 and $.98 cents a sf. The benefit of a twist carpet is it has a thicker look without added cost and the padding is not meant to be bouncy thick. So you can use cheap padding at about $4.50 a square yard.
Rough cost for a whole house of 1,200 to 1,500 sf is $2,500 all things included IF you do it the way I am suggesting below. Of course not all of the floors in the house are carpet. The bathrooms and kitchens are not carpet. The last 1,750 sf house had 1,460 sf of carpet. That is the one in the picture. The one I'm working numbers for up right now is a 1,500 sf house so I'm estimating 1,200 sf of carpet. The total price should come out the same at $2,000 to $2,500 as the carpet price went up but the house is smaller.
I haven't found anyone that can beat Home Depot prices and I've shopped around. Once I found someone who could match the price with a higher quality carpet, but higher quality is not always better as many of those colors have gone out of style…as in too light or too white. You are better off with current color cheaper carpet.
Get new padding!!! Often we are trying to freshen up not only look but smell. Even without pets you have "dusty old house smell" or cooking odors stuck in the carpet and padding. Not worth the savings usually to not get new padding.
TO GET LOWEST COST pull the old carpet and padding out yourself. Leave the tack boards (wood strips around the room edge with nails sticking up.
1,200 sf of carpet at 90 cents to a dollar a sf is $1,200. Padding should be about half that cost, so $1,800 for carpet and padding. Usually Home Depot has a whole house installation special for about $100. I don't know how they do it, but they do. That special may not always be running, but let's assume you have some flexibility in timing. STEPS are additional! so if it is a one level condo or apartment or a 1 story home you can still bring it in for $2,000 including installation and tax. Steps cost about $8 each for a simple box step. The properties I have done are either a 14 step tri-level or a one flight up 2 story. But a lot of steps like an extra full flight up or down you have to add $8 per step or thereabouts.
In the job I am costing and the one in the picture there are about 14 steps for a total extra cost of $110.
So "Hall Up, Master bedroom and closet, 2 additional bedrooms and closets, additional up hall closet, family room, and stairs". $1,200 carpet, $600 padding, $110 for steps, $100 for installation is $2,010 which is exactly what it cost for the house in the picture including the tax with the cheaper carpet. So plan on $2,500 for a little wiggle room.
If you are a seller, spending $2,500 for new carpet is MORE EFFECTIVE than giving a "$5,000 carpet allowance". Your home will sell faster and for more money and cost you half as much or less. A buyer thinks carpet will cost at least $10,000, so they won't like your $5,000 offer for new carpet. Don't be lazy. Spend the $2,500 on new carpet vs a "sorry my carpet is dirty credit".