Stainless has become a preferred color option. Most people who say "stainless" are not always talking about expensive Stainless STEEL. As long as the color is the same, most people don't care. Easy way to tell if it is Stainless "Look" is to carry a fridge magnet when you are shopping for appliances or houses and if the magnet doesn't stick to the front door then stainless is the color and not the material used.
For this post I am pricing out some basic upgrades for a client. Earlier today I did the carpet cost and now am moving to the appliances. We're looking for relatively low prices for standard sized everyday appliances. The type you might use if you were selling a property or upgrading a modestly priced home. A quick change in the look from white or black and basic clean and new appliances. Nothing too fancy.
REFRIGERATOR
I would say $1,000 or less including tax and delivery. I found a few good ones for about $750 which are sometimes $685 or so on sale. There are many in the $800 to $900 range. The property has a standard opening from the 1970s, so 18 cubic feet or so at 65″ high and 30″ wide will probably fit better than a 21 or 22 cubic foot fridge that requires more height between the floor and the upper cabinet of about 70″. For the family I'm doing this for, the $750 fridge on sale for $685 shown in the picture below should be fine. This would work for any full sized 30″ wide opening. The opening is usually 32″ to 34″ and the 30″ has a little room on both sides.
RANGE
In this case we will be using a standard 30″ wide electric range in mostly stainless and partly black. I will post all the photos together at the bottom so the client can see how they look side by side. For some reason the power cord is often sold separately and the total cost should come in at around $650. The lower priced ones are black or white and we want to stay with a full stainless steel or stainless look result in the kitchen.
DISHWASHER
All of the appliances are white and we are replacing with stainless, but worth mentioning that the current appliances are all in working order and can probably be sold on Craigslist for a few hundred dollars for all of them or donated to charity for a write off. Most people just let the company bringing the new appliances haul them away. But I do have a few resourceful clients that sell everything, like the young man who actually sold his old carpet that he tore out. 🙂 I haven't had to replace a dishwasher when selling a home…well pretty much ever. So I'm pricing these off of Home Depot. In this case I used a $600 Dishwasher in the photo. You can get a cheaper one in the same black and silver version as the range…but this all stainless dishwasher is so much better looking and impressive in person for a little more cost. I recommend you not skimp on this appliance and not get the one with some black plastic on it. You need some black on the range for the knobs and digital display. But not on the dishwasher. Speaking of which the fridge can have black sides and sometimes better to have that as fridge magnets will adhere to the sides usually if they are black. Since the range is mixed silver and black, that usually makes a lot of sense.
MICROWAVE
I'm showing a picture of a $260 over the range microwave. You can find them a little cheaper or pricier, but we're just trying to get a total price to move out the white appliances and bring in Stainless Steel or Stainless Look appliances. I thought this one was as showy as the dishwasher, and when the nicer looking one is only $60 more…why skimp? USED TO BE you would just put a range hood there, and nothing wrong with that. BUT the last time I tried to do that with stainless vs white or black…it cost an arm and a leg! Might as well go with a Microwave that has a vent fan. You can look at both, but I wouldn't pay the same for a plain vent as I would for a Microwave. YMMV
So we're looking at $700 to $800 for the Fridge. $650 or so for the Range including tax and power cord, $600 or so for the dishwasher and another $250 for a microwave or $2,200 to $2,500 total. Roughly the same price as the carpet in the other post. So let's say we are at $5,000 for all new appliances in the kitchen and all new carpet in the house. Not bad.
First pictures of the kitchen appliances, then I'll move to washer and dryer which can be simple full sized white top load washer and front load dryer. Note that I just cut and paste these pictures together. I didn't put model numbers or brand names as you want to be sure they are matching color. Usually best to stick to one brand name for that reason or at least see them together in a store. If you buy the full 4 piece appliance package in the same store you can usually get a better deal of about 20% off.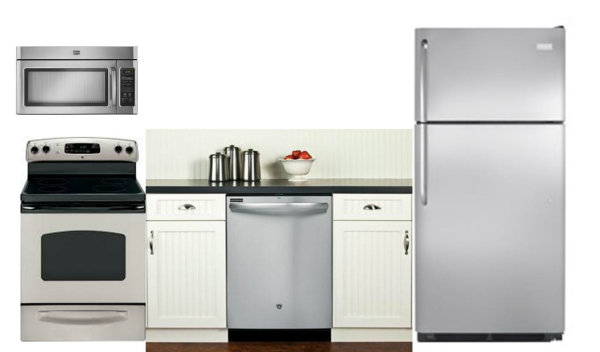 I'm just going to throw in the washer and dryer at $1,000 for both. People have been getting carried away with washers and dryers costing $3,000 or more for both. But for the purpose of this modestly priced home and knowing the clients as I do, they actually can probably do all of this including the washer and dryer, kitchen appliances and all new carpet for $5,000…$6,000 tops.