King County Home prices in 2010 will have to escape two mega foreseeable dip factors, in order to keep in the 2005 – 2006 price range. Early last year I called bottom and the end of the downward spiral, when median home price for King County was at $362,700. The year ended at at a median price of $380,000, and early closings for 2010 are running at an unsustainable high of $196 mppsf.
What to watch for in 2010:
1) Prices should stay in the 5% this way or that range of $380,000. Expect a low of $361,000 to a high of $400,000. We reached that point in June of 2009 when it hit $399,000, and then backed off from there toward year end.
King County median home prices should stay within 5% of $380,000. If they move out of that range on the up or down side, it will be time to "take notice" of which way it is going out of the expected zone and why.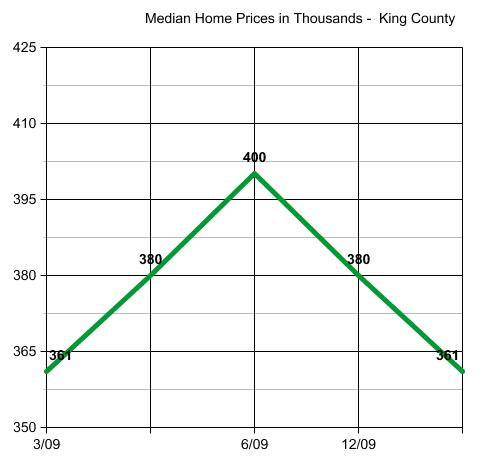 2) Even more important than staying in the 5% this way or that of $380,000 above, would be falling into 2004 price levels. Several times I have been quoted as saying that prices will maintain at 2005 levels, and so far that has been correct. We have a considerable cushion between current home prices and 2004 levels here in King County. For this graph I used median price per square foot, noting 2004 pricing as RED, the danger zone.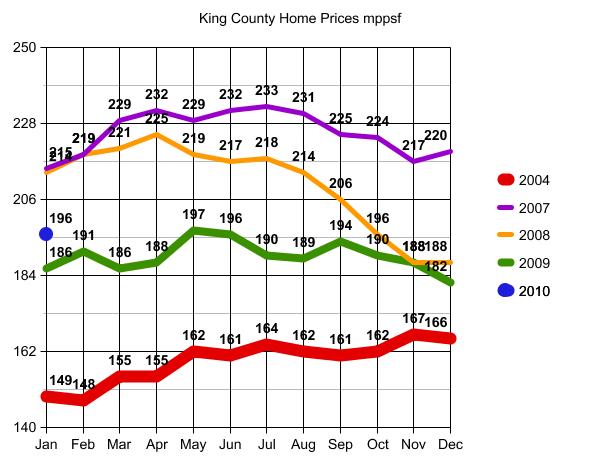 While I am still fairly confident that we will stay in 2005 – 2006 levels for the foreseeable future, I have a couple of concerns for 2010. The first, of course, is the end of the Tax Credit for Homebuyers. If we are high enough in that above $380,000 range as to median price by the time that happens, we should stay in the safe range when we take the post credit dip. If we trend down in the first quarter toward bottom, then the end of the credit will be a more worrisome event.
I am more concerned with how 2010 Assessed Values will impact home prices next year and beyond. While I agree that the County needed to back down those prices to cut back on the expensive appeal process, I see a dark cloud on the horizon. Many people have come to use County Assessed Values in some form or another when determining value and fair offer prices. The huge dip in Assessed Values from 2009 to 2010 could trigger a reaction from home buyers forcing prices into another downward spiral. We can only hope that people will look at Automated Valuation Models or "the comps", instead of County Assessed Values. Dramatically reduced assessed values could have an unwarranted, unexpected and negative impact on home prices in the coming year. Only time will tell. That cloud may come and rain on us…or blow out to sea.
Barring a new event, look for home prices to be in the 2006 range for the strongest of neighborhoods and early 2005 range for the weakest of neighborhoods. Weakest being those with the most foreclosures and strongest being those with the least foreclosures.
East Home Prices by Style and Age of Home
North Seattle Townhome Prices by Zip Code
A Decade of Green Lake Home Prices and Sales Volume
(Required Disclosure – Stats are not compiled, verified or posted by The Northwest Multiple Listing Service)