Queen Anne has long been one of my favorite Seattle neighborhoods because of its easy proximity to Downtown Seattle while still maintaining a "small town" feel.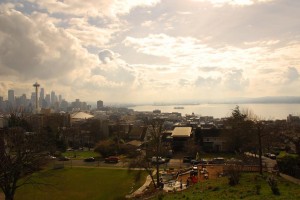 The Queen Anne Neighborhood of Seattle is amazing from all angles – on the North slope there are lovely views of Ballard & Fremont over the canal and the Fremont Sunday Market is practically right there!  To the East is Lake Union with houseboats all along Westlake, the Bigelow Ave portion of Queen Anne Boulevard, Downtown Seattle views, and more.  In the Southeast, the newer QFC is just one of the factors that make this part of the neighborhood score high on WalkScore (my latest Queen Anne contract  in this area has a WalkScore of 94!!!).  In the shadow of the iconic Space Needle, Lower Queen Anne or Uptown is full of restaurants, pubs, and nightlife and has the Seattle Center at its heart.  West Queen Anne is perched high above Puget Sound and offers sweeping views of the sound, city, Space Needle, Mount Rainier, and pretty much anything else you want to see as it is one of Seattle's highest hills.  Upper Queen Anne is the true heart of the neighborhood and a stroll or drive along Queen Anne Ave North will show you why.  This is the heart of the upper portion of Queen Anne and where you can find all of the offerings from local clubs, restaurants, and merchants. One of my personal favorites is Queen Anne Books.
Historical Queen Anne: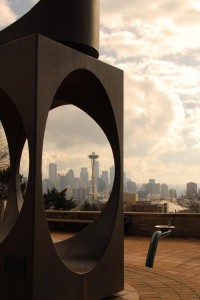 Queen Anne is one of the original Seattle neighborhoods settled and the history of it is quite fascinating!   A stroll around Queen Anne Boulevard is a great place to start.  Old Queen Anne Boulevard is a series of streets that form a loop around the top of Queen Anne – a crown around the top of the hill.  Many people don't know about the Boulevard, but it has been around in one form or another for about a hundred years thanks to the citizens of Queen Anne at the time who pushed for it.   Queen Anne Boulevard is Queen Anne's version of the Green Lake path although it is almost a mile longer at roughly 3.7 miles and shares its surfaces with cars.   Look for historical sites on the Boulevard including the Wilcox Wall on the West slope, but also notice that there are some of the city's best views along the way!
Queen Anne Real Estate:
Homes in Seattle's Queen Anne neighborhood range from small co-ops and condos for under $200,000 to sweeping historical mansions priced in the millions, but the current median for listed residential (non co-op or condo) Queen Anne homes is $650,000 with a range of $325,000 to $4,890,000.  Although much of Queen Anne hill is made up of historical architecture, there are some really well thought out new construction projects on the hill – many that incorporate greener building products and that have incorporated the character of the surrounding neighborhood as well as the views available into their design.  Queen Anne has a lot to offer and can be surprisingly more affordable than one might initially have thought  in some areas.
Queen Anne Living:
This neighborhood is so livable!  The streets of Queen Anne are connected by a matrix of pedestrian staircases  (check out Thomas Horton's map of them here) and sidewalks which lead to the wide array of  neighborhood parks, local grocers and shops, eateries, coffee houses, and more.  Transit is thoroughly incorporated into the infrastructure here with bus routes all over the hill.  If you are looking for a good no car option, than Queen Anne is definitely one of my top recommendations in Seattle, but obviously, with or without a car, it is one of my favorite Seattle neighborhoods!